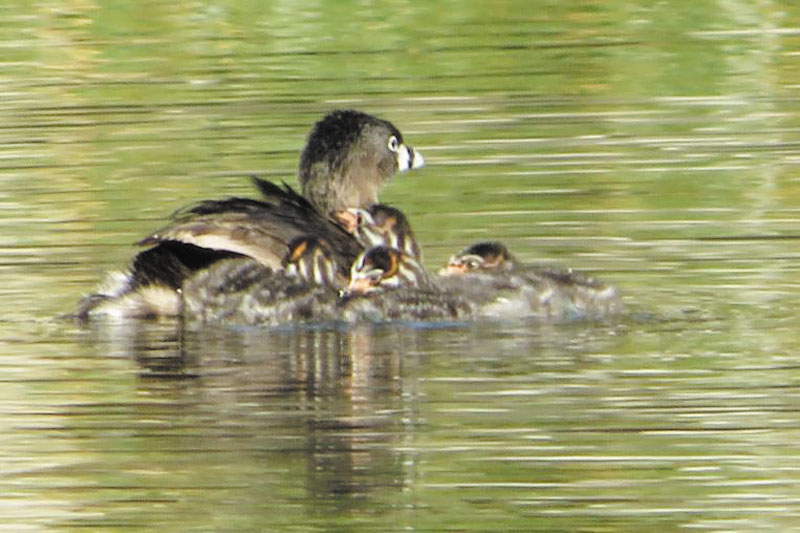 Scout observes duck families
Alex Heitstuman is a Scripps Ranch Girl Scout and eighth grader who has been documenting and photographing wildlife at Hendrix Pond, near Aviary Drive, Willow Creek Road and Caminito Doha.
She has been observing the duck babies every day and watching them grow while she documents this with photos. Alex loves photography and is an avid writer, according to Jennifer Richmond, her scout leader.
Her proud parents are Bill and Erica Heitstuman.
This is her article about the pond as an asset to the community, about conservation and about the baby duck families: 
Hendrix Park is a great place to relax, adventure and stroll. It is located on Aviary Drive, near Vons, Starbucks and the Scripps Ranch Swim & Racquet Club.
It's covered with trails to walk and explore. The picnic tables and benches make for a relaxing break. The sounds emanating from the pond include tweets, quacks and croaks, and it's easy to tell that a variety of wildlife thrives in this park.
This population had a new addition with the coming of spring: Ducklings!
So far, nine baby mallard ducklings, five grebe babies and at least four coot babies have been spotted cruising around the pond. If you want to come in time to see them coming out of their nests to eat or just swim around, they usually come out in the mornings around 8 a.m. and the afternoons around 4 p.m.
If you're eager to see the ducklings, please be considerate that you're coming to their home. Please be respectful not to yell at the ducks, run at the ducks, and if you want to feed them, choose seeds, grapes or oats instead of bread.
For your safety, if a duck starts walking toward you, back up, as father ducks are very protective even if the babies aren't around. They will be especially hostile if you try to touch or pick up the ducklings, so it would be best to just look and take some cute pictures.
Since I discovered the ducklings, I have been coming to Hendrix Pond every day to take pictures of them. During my time there, I started noticing the other species that were little known to me. If you look
closely, you can see a red-winged blackbird flitting from branch to branch, and if you listen attentively, you can hear a bullfrog croak from the vegetation.
If you want a place to relax, walk your dog, bird-watch, or just happen to have some extra time after a drink at Starbucks, I sincerely recommend heading to Hendrix Pond to discover and  enjoy the animals that inhabit it.