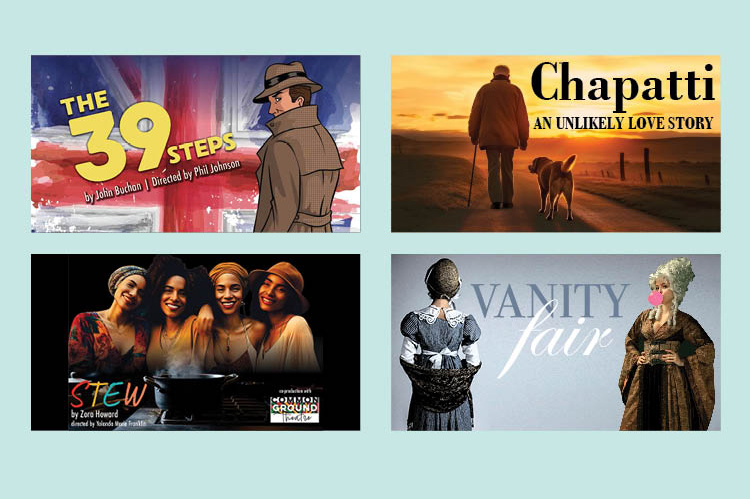 Scripps Ranch Theatre begins new season
By Ashley Shah
Scripps Ranch Theatre's 2023-24 season officially begins in October with its production of "The 39 Steps." There will be three additional productions this season.
"We wanted a season that was diverse. We wanted our patrons to have choices," artistic director Jill Drexler said. "'The 39 Steps' is all about comedy. The production follows a man who is beige, but he suddenly is dragged into a psy mystery. We watch as he comes to life."
The next production, "Chapatti," will run in February of 2024.
"'Chapatti' is a romantic piece. We watch as an older man with a dog, who has just lost his wife and does not want to go on, matches with an older woman with a cat. They have nothing in common, yet they find each other. This piece gives you faith in human beings," Drexler said.
"Stew," the third production, will play in March 2024. This production is a co-production with Common Ground Theatre.
"We have been trying to get this play for two years. I called about two weeks ago, and the rights were finally available for it," Drexler said. "This production has a lot of drama. We follow a multi-generational family that comes across so many problems and secrets, but through it all, they stick together."
The final production of the season, "Vanity Fair," will begin in May of 2024.
"This is a period piece. It is about women's empowerment, but really could be about people's empowerment," Drexler said. "Becky has no money in a society where money is everything. We watch her fearlessness in going after what she wants. She bends her morals a little to get there, and you want to judge her, but you have to give her credit,"
All of these plays have something in common.
"They all have some humor. I won't pick a show that doesn't have humor in it. They aren't all comedies, but they all have some redeeming humor and comedy," Drexler said.
This season provides a unique challenge that last season did not have.
"Last season, we had a Neil Simon piece. Everyone knows Neil Simon. We had a built in recognition factor. This season, we don't have a piece like that. However, I think that's what provides this season with so much diversity. Every production is something to discover," Drexler said.
She shared her main hope for this season.
"I want the audience to come back. We lost so many people with the pandemic. Everyone got used to streaming," Drexler said. "We just started selling tickets for 'The 39 Steps,' and there are already some shows that are completely sold out. People are coming back, but we want more."
To purchase tickets, visit scrippsranchtheatre.org/tickets, or call the box office at (858) 395-0573. 
"If you book tickets now, I can guarantee a spot in the first four rows," Drexler said.