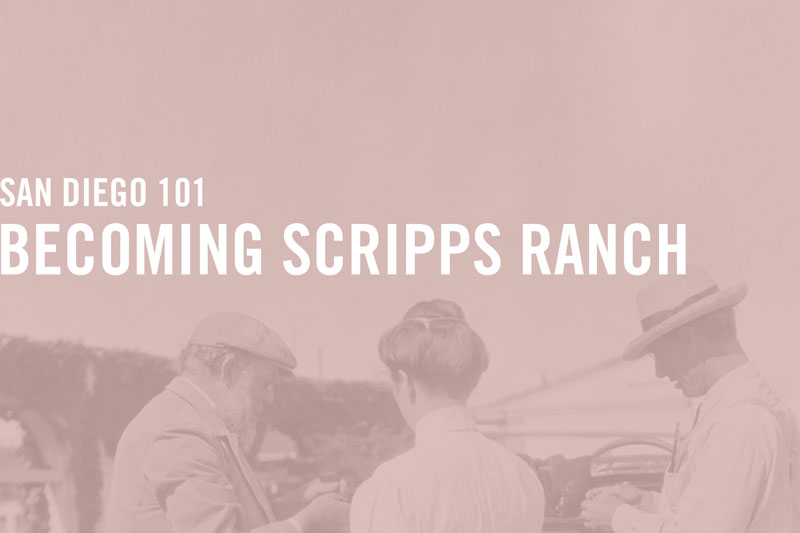 SDHC presents Becoming Scripps Ranch
The San Diego History Center, located in Balboa Park, will present "San Diego 101: Becoming Scripps Ranch" on Tuesday, Nov. 9, noon-1 p.m. via Zoom.
When members of the Scripps family arrived in the 1890s, San Diego was a sleepy little town built mostly around the downtown waterfront. E. W. Scripps and his half-sister Ellen Browning Scripps quickly found their places in the business and philanthropic communities, although they lived at opposite ends of Miramar Road.
Hear stories of how the family members faced personal challenges which ultimately affected where transportation lines were extended, how water was distributed and how the construction of a mansion in the middle of nowhere was possible using well-known local talent.
Speaker:
Linda Canada holds an undergraduate degree in History from UCLA and a law degree from Loyola University in Los Angeles. Twenty years after leaving her legal practice, she still considers herself a "recovering lawyer" and has worked exclusively in the field of local history. Canada served as the archivist for the Japanese American Historical Society of San Diego (JAHSSD) from 2005 to 2017 and was its president from 2009 to 2012. She has given talks for the History Center's Speakers Bureau for more than 20 years.
This event is free. Guests will receive a confirmation following registration.
Register here:
https://6785.blackbaudhosting.com/6785/tickets?tab=2&txobjid=2b304f4d-6758-417a-8d8f-b33ff5788a25