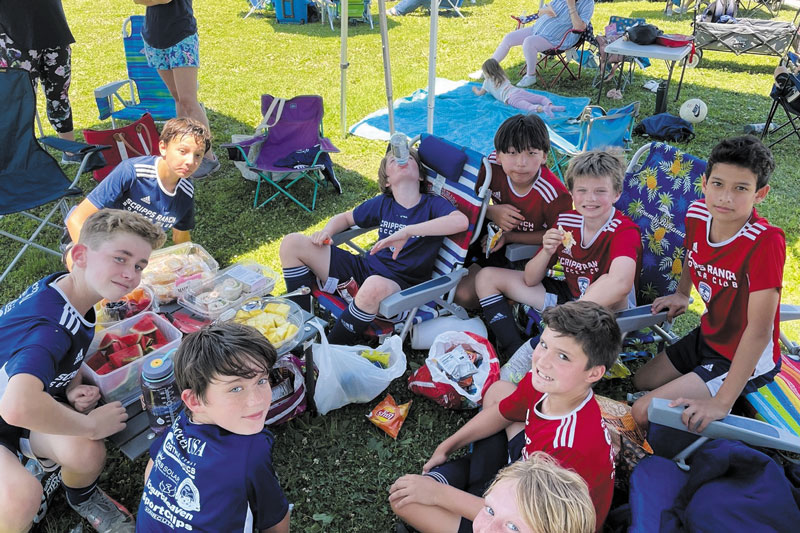 Soccer Club rallies, looks to the future
By Hector Trujillo
Like everyone during these last 18 months, the Scripps Ranch Soccer Club (SRSC) had to adapt to new circumstances in order to survive due to restrictions caused by the coronavirus pandemic.
The original thought was that the shutdown would be short lived and the organization would still be able to have normal competitive and recreational seasons. Unfortunately, this did not turn out to be the case.
The club's volunteer board meets monthly, and during every meeting (via Zoom), the board discussed how to adapt to the changing circumstances while honoring their mission of fostering youth soccer in Scripps Ranch and remaining financially solvent.
"We are fortunate that we've had a stable organization for almost 40 years and we have an experienced board that is truly passionate about youth soccer in our community," said SRSC Board President Scott Brown. "The team worked diligently to come up with creative ideas on how to safely meet parents' requests to get their kids out on the field while respecting all applicable pandemic guidelines which were constantly changing."
The club's biggest surprise was the overwhelming demand for some of the ad hoc programs it had developed. With kids not attending school in-person and indoor sports being canceled, youth soccer provided a safe outdoor venue in which kids could socialize and get some exercise. Unfortunately, the club did miss its entire traditional 2020 recreational and competitive seasons.
"Our competitive season is full, but our numbers are not quite what they usually are for the recreational season, which is requiring additional creativity in how we usually operate," said SRSC Director of Coaching Cha Cha Namdar.
SRSC found innovative ways to keep youth soccer alive in Scripps Ranch while constantly monitoring the situation and following CDC, California and youth soccer guidelines as they evolved.
The competitive season began with teams starting Zoom practices in April. Once guidelines changed in June, they were able to practice on the field with teams (pods). While the teams didn't play any games, the kids and parents were thankful to have the players out on the field.
Additionally, the 2020 recreation season was completely canceled. The club had originally been registering players, but when they realized a season would not happen, almost 400 players who had already registered received refunds.
Camps and spring soccer
When California allowed camps to resume, the club created a recreational soccer camp, and the response was so positive and demand so high that an additional session was created.
After canceling the last three weeks of 2020 spring soccer and providing prorated refunds, the club was able to hold its 2021 spring soccer per usual. Once again, due to parent requests, a second session was implemented with the programs having more than 350 kids and 52 teams participate.
Upcoming events
The current recreational teams formed in July, with practices starting in August and games starting in September.
Competitive teams started participating in local tournaments and, on June 27, the club hosted its annual 4×4 tournament in Stonebridge (which had been canceled in 2020) with 80 teams and more than 400 kids from various local clubs competing.
On August 7 and 8, the club is hosting a competitive 6×6 tournament, and Socctoberfest is scheduled to be held on Oct. 3 at Scripps Ranch Community Park. This event is open to both competitive and recreational teams along with the rest of the community.
"It's hard to express how important it has been for kids to be able to socialize, feel like part of a team and get outdoor exercise," Namdar said. "With kids spending so much time online, not only gaming, but for socializing and school, youth soccer presented a lifeline for many."
Visit scrippsranchsc.com.