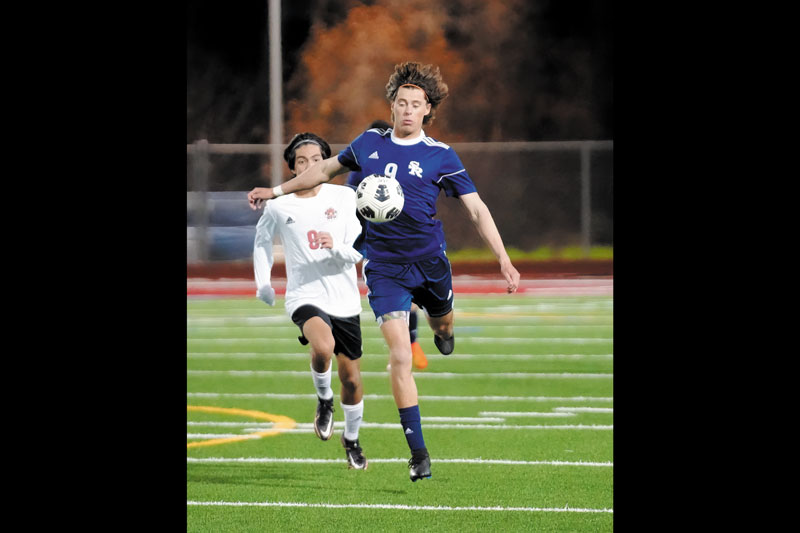 Soccer team looks to close season strong
By Hector Trujillo
With only four games left in the regular season, the Scripps Ranch High School mens soccer team looks to finish just like it started by imposing a style of play which helped it win five of their first seven matches.
The Falcons bounced back from a season opening 2-1 loss to perennial powerhouse Rancho Bernardo High School to defeat the next three opponents, which included a dramatic 2-1 victory at Escondido High School on Dec. 8, followed by a one-goal win over Bonita Vista on Dec. 13.
"We have a pretty good balance of players, but still need to be more consistent to put a stamp on our season," said head coach Hans Witzell.
Despite suffering a 4-0 setback versus University City in the following game, Scripps Ranch was once again able to recover by winning two of the next three including a 1-0 victory over rival Mira Mesa High School on Dec. 20.
"Our objective is to make the playoffs and compete for a league championship in the Eastern League," Witzell said. "All the teams in the Eastern League seem to be fairly similar, so it would be an extremely competitive league."
The most impressive performance for the Falcons undoubtedly came on Jan. 10 with a 7-1 home blowout over Patrick Henry High School to open league play and improve the Scripps Ranch record to 6-3 overall. This season has been a dramatic turnaround compared to 2021-22 when the Falcons did not earn their first win until the 11th match with a 3-1 victory over Granite Hills.
Among the players who have contributed the most to this notable improvement are senior forward Brett Woodworth who has created the best chances for the offense.
The final stretch for Scripps Ranch starts at home against Chula Vista High School on Jan. 31. This will be followed by three league matches starting on Feb. 2 versus Hoover High School, Crawford High School on Feb. 7 and then closing out the regular season against San Diego High School on Feb. 9.
The Falcons ended the 2021-22 season strong, losing only one of their final four games. If they can do the same this time, they will be in a great position to make a run in the postseason and perhaps makes this a season that will not soon be forgotten.