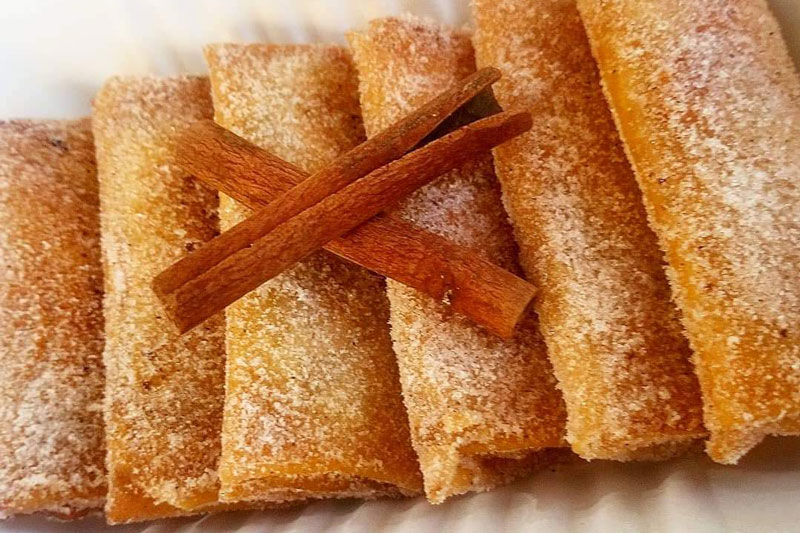 SR Farmer's Market: Try Luna's LUNpias
By Terry L. Wilson
The Scripps Ranch Farmers Market offers tasty treats from around the globe, and Luna and Rex Mortenson are among the market's newest vendors, offering delicious delights from the Philippines in the form of lumpias and more. 
"I grew up in a Filipino kitchen alongside my dad as he created savory delicacies while I was learning my mom's baking secrets," Luna said. "My husband, Rex, and I are now sharing those tasty treats with everyone."
Lumpias are a crowd favorite, basically a Filipino eggroll filled with pork, veggies and seasoning, directly from Luna's mom's secret family recipes.
"We have a variety of lumpias. There is a modern twist on the traditional lumpias – adding beef, turkey, vegan, a surf and turf, along with dessert lumpias that are filled with a brown sugar glazed banana," Luna said. "Another popular one is a twist on a churro. It has a banana that's rolled in cinnamon and sugar. So, we have the savory and the sweet."
The Mortenson's ended up at the Scripps Ranch Farmers Market by accident. A casual drive turned out to be a stroke of good luck for the couple, and perfect timing for their growing business.
"We were looking for a Farmers Market. We wanted to move out of the commercial kitchen and expand our business," Luna said. "We saw the market and stopped. As luck would have it, they were looking for a new Filipino food vendor, and we jumped at the opportunity."
Prior to the COVID-19 pandemic, the Mortensons had careers outside of the kitchen. Rex was in solar; Luna was in applied behavioral analysis. But the events of 2020 changed the course of their lives forever.
"I could have never predicted how my passion for Filipino cooking and COVID-weary families that were desperate to add variety to their home cooking would collide," Luna said.
Luna began a home-based business selling a few of her favorite foods to friends and neighbors. The word got out and soon she and Rex were side-by-side in the kitchen cooking up a storm till the wee hours, just to fill the growing numbers of orders. 
"Luna was staying up to 4 a.m. preparing orders that kept getting larger every day," Rex said. "So, I told her, 'Teach me your recipes and I'm going to help you.' Before that, the most I'd ever cooked was maybe Top Ramen."
Rex turned out to be a fast learner and an excellent cook, so he manned the stove while Luna focused on marketing the business.
"To keep up with demand, I worked to streamline my processes, source the freshest ingredients and create innovative new menu items like my incredibly popular pancit LUNpia cake, gorgeous ube treats and specialty dessert lumpias. And that's how Luna's LUNpias was born," Luna said.
"I'm amazed and grateful for the support and love of my family and community, whom I credit for the continued success of Luna's LUNpias," she said. "Food is truly the great connector, and I'm blessed to meet and reconnect with so many wonderful people from near and far doing something I love."
Luna and Rex quit their pre-COVID jobs, putting all their efforts into Luna's LUNpias. For orders or information, visit facebook.com/LunasLUNpias.
Discover Luna's LUNpias at the Scripps Ranch Farmer's Market from 3 to 7 p.m. each Thursday at 10045 Carroll Canyon Road (next to Newtopia Cyder). There is plenty of parking across the street at the National University parking lot.