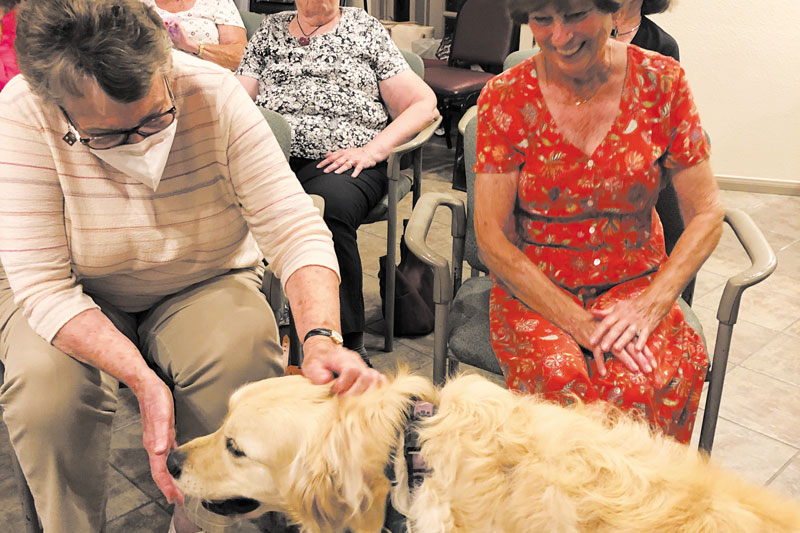 SR Welcome Club celebrates summer
By Denise Stewart 
Most gatherings are safe and comfortable again, so Welcome Club filled August with a variety of special festivities for its membership. 
During the first week of the month a group followed Mrs. Harris to Paris and then enjoyed a lunch at a nearby restaurant after the movie. Gadabouts, as it is known to the club, is a regular entertainment event. Movies, museums and enjoyable outings are on the agenda for the coming months, according to organizer Pam Savelsberg.
The second week featured the monthly general meeting of the membership at the Scripps Ranch Community Center. A volunteer organization known as Pawsitive Teams brought its therapy and service dogs to the meeting to acquaint the club with its program of using the dogs to aid at-risk teens, active-duty military, children in stressful situations and individuals with mobility or developmental issues. The furry friends were a big hit with the pet-friendly club. Diane Rider coordinated the event.
A Coffee in the Community Park was one of the highlights of the third week of the month. Members and friends gathered in the shade to share a chat and delicious morning treats prepared by Cecilia Waters and her co-hostesses. Monthly Coffees are a Welcome Club tradition and plans are in place for more in the fall.
Also that week, members met at the Symphony in the Park concert. They enjoyed the company of friends, the music and the tasty snacks at the BYO event under their club's party tent. 
During the fourth week, to celebrate the end of summer, a TGI – or a let's get together and party event – drew a comfortable crowd to the backyard of DJ LaVoie and her husband Bob. A summery potluck and cold beverages enhanced the garden party atmosphere. It was a delightful occasion to celebrate summer. 
While these special events highlighted August, Welcome Club's routine activities continued to keep members in touch and entertained. 
The Trail Walkers met three times a week to get exercise while enjoying the paths throughout our community. The four book clubs read and discussed their monthly choices. The Bunco players rolled their dice and enjoyed their friendly game. A new group of board game players is emerging and awakening the enthusiasm of those who enjoy that pastime. 
Welcome Club continues to draw new members into the fold. More can be learned about this 40-plus year old community asset by checking the website: scrippsranchwelcomeclub.com.