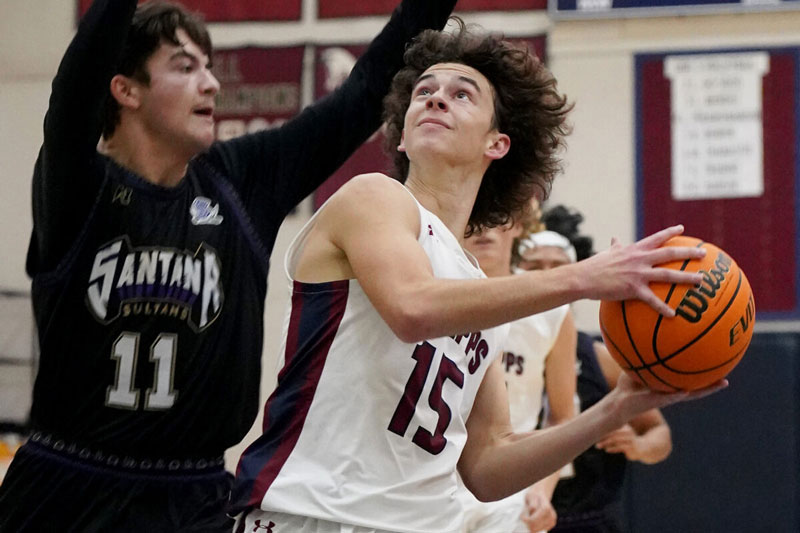 SRHS coach optimistic as new season begins
By Hector Trujillo
The Scripps Ranch High School boys varsity basketball team, which kicked off its home opener against Santana High School on Nov. 17, looks to bounce back from its lackluster performance from last year as the league found itself gripped in the height of the COVID pandemic.
"This season is shaping up to be an amazing year," said head coach Brock Flint. "It's one of the deepest teams we've had in a decade. Once the team gels, it will be a heck of a squad. We have high goals, as we expect to compete for the league title and also make a deep run in the playoffs."
The Falcons have eight returning players from last season along with several new talented additions to the team.
The full schedule this year includes several Division 1 and 2 opponents including Mission Hills and Cathedral Catholic, with the team facing off against rival Mira Mesa High School twice; first on Dec. 13 and then at home on Dec. 23.
"Last season was a big challenge for us. It was the first season for our new coaching staff, who were all hired just a few short weeks prior to the season starting. We were implementing an entirely new system," Flint said.
The other complicating factor was that the COVID pandemic forced sports to overlap and limited practice times, which caused players to miss the season.
Among the players who will be a key to the team's success are senior Caden Flint and junior Jaiden Schube, who are not only good at scoring baskets, but also play tough defense. Other noteworthy players are senior guards Jared Balaoing and Chase Weber, with center Jax Leatherwood being a tough matchup for opponents along with newcomer Lamont Wilkerson.
"Scripps Ranch boys basketball hasn't been a force to be reckoned with in quite some time, but we are working hard to change that," Flint said. "Cultures don't change overnight or even in a season, but these young men, our amazing coaching staff and several key contributors in the community are working relentlessly to make sure we build something to be proud of for years to come."
Flint studied sports and coaching in college along with playing competitively for many years.
"I love these young men and who they are becoming. And coaching is a platform that you can use to teach them how to grow and take life on." Flint said.