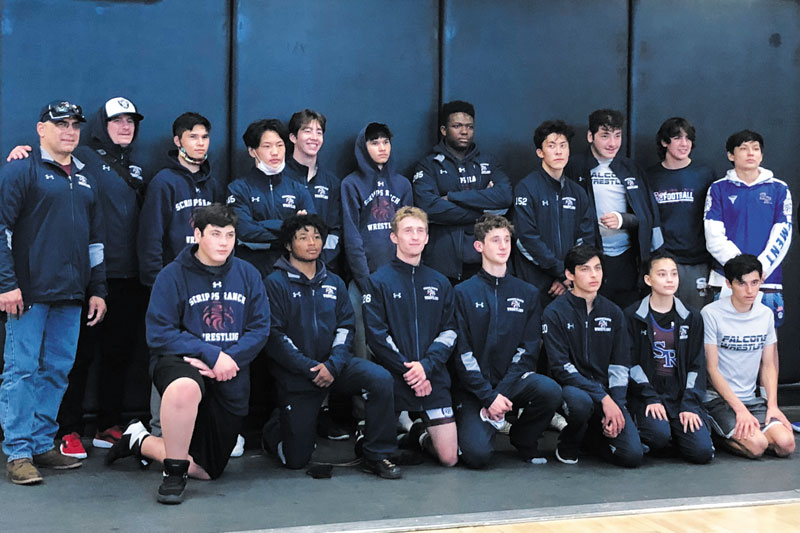 SRHS grapplers have a season to remember
By Hector Trujillo
Despite the shortened season this year due to the COVID-19 pandemic that saw the Scripps Ranch High School (SRHS) wrestling team lose 10 wrestlers from last year's roster, the team rose to the occasion with several standout performances, making it a season to remember.
"We were so excited to even get a season this year, and once CIF approved a wrestling season, it came with a lot of protocols," SRHS wrestling coach John Kreitzer said. "All wrestlers and coaches had to get tested every week. In addition, we had to wear masks in the practice room and during competitions at all times when we weren't actually wrestling."
The team had a total of five league duals and two out-of-league duals, finishing with a 4-3 team record overall (3-2 in the league and 1-1 out-of-league). This was despite the fact that the team could only fill nine of the 14 weight classes, and was forced to give up 24 to 30 points per dual from the start, as each forfeit is worth six points.
The SRHS varsity boys wrestled in the San Diego City Conference Championships (Willie Jones Jr. Memorial Classic) and the CIF Division II Championship tournaments, finishing fourth out of 17 schools in the City Conference Championships thanks to the following performances:
1st Place: Ryan Bethel (senior) 128 lb. weight class finishing 1st at Cities and 3rd at CIF.
1st Place: Jun Melchior (junior) 154 lb. weight class finishing 1st at Cities and 5th at CIF
2nd Place: Ryu Pitts (junior) 134 lb. weight class
3rd place: Danny Abdin (sophomore) 115 lb. weight class
4th place: Alex Villalobos (freshman) 147 lb. weight class
CIF Division II San Diego Section Championship results:
3rd place: Jun Melchior
Tied for 5th place: Ryan Bethel (128 lbs.) and Colin Young (140 lbs.)
Tied for 7th place: Alex Villalobos (147 lbs.), Kyan Lincoln (287 lbs.)
The team's lone female wrestler, freshman Tatum Viramontes, who competed in the 105 lb. weight class, participated in the Goddess of Olympia tournament at Olympian High School.
The competitions were initially mandated to be without spectators, but as the season progressed, two spectators were allowed per wrestler.
"It was better than any of the previous three seasons I've coached here at Scripps Ranch. Rarely did a wrestler miss practice, and we had many of them that didn't miss any," Kreitzer said. "I would be remiss not to mention the parental support we received. I was really concerned that we wouldn't get the same level of parental support in the pandemic, and I'm happy to say I was pleasantly surprised."
Kreitzer, who worked as an assistant for one year before taking over the team, started coaching his freshman year of college after suffering a broken back career-ending injury in high school. He continued coaching throughout a 20-year career in the Marine Corps when not deployed, including in North Carolina where he was stationed for many years.
"I believe everyone did an amazing job conducting matches and practices, making sure we got weekly testing, and the coaches were super on top of things," Melchior said. "The best part about being a wrestler is how much it teaches you about yourself. It teaches discipline and mental toughness."
Melchior was inspired to become a wrestler thanks to his gymnastics background and also because his father wrestled in high school.