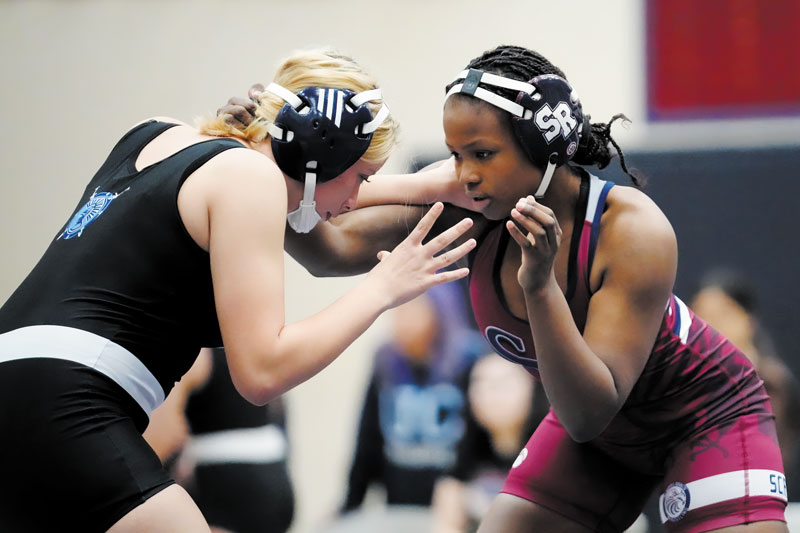 SRHS wrestlers compete at CIF
By Hector Trujillo
What started out as a rebuilding season after losing five seniors last year has turned out to be one of the most successful seasons in many years for the Scripps Ranch High School wrestling team.
The San Diego Section Boys CIF D2 tournament was held on Feb. 11, with Scripps Ranch taking 10 male wrestlers to compete with the goal of qualifying for the San Diego Section Masters tournament the following week. The SRHS male wrestlers who qualified were Elisha Hosseini, Garrett Elliott, Jack Hamilton, Dane Walkowiak, Hendrix Lynn and Ryan Stadtherr. The San Diego Masters tournament was held at Mission Hills High School on Feb. 18 and 19 (beyond press time).
SRHS women wrestlers also competed in the Masters tournament on Feb. 18. The women were led once again by two-time Masters qualifier junior Kayla Lincoln, who finished third in the Conference and second at the San Diego Section D1 CIF tournament. Lincoln was joined at Masters this year by freshman Ava Fodera, who finished first in the City Conference and third in the CIF D1 Championship Tournament. SRHS also had an alternate to Masters in freshman Khyla Adams, finishing in sixth place at the CIF D1 tournament.
"Womens wrestling is growing in San Diego and the Lady Falcon wrestlers are some of the top in the City Conference," said head coach John Kreitzer.
The mens team finished second in the City Conference Western League and fifth in the San Diego City Conference Tournament led by sophomore Jack Hamilton. Hamilton ended up as Western League Champion and led the way with three first place tournament placings which included his performance in the San Diego City Conference Championships. Senior Garrett Elliott also had an outstanding regular season, finishing third in the San Diego City Conference.
Another Falcons mens wrestler with noteworthy efforts this year was sophomore Grant Hancock. Hancock ended up in fourth place at the San Diego City Conference Championship.
Three freshmen – Micah Kollmeyer, Dane Walkowiak, and late transfer to SRHS Elisha Hosseini – all medaled in every tournament they entered this season. The three finished fourth, third and also third, respectively, at the San Diego City Conference Varsity Championship tournament.
"To witness the growth of the entire wrestling team has been nothing short of amazing," Kreitzer said. "These student-athletes have endured grueling practices and competitions, and improved every day by leaps and bounds. They are tenacious and motivated, always wanting to work harder than their opponents, and the results have reflected great credit upon themselves, their team, their families, Scripps Ranch High School and the entire Scripps Ranch community."
Out of the 36 currently active wrestlers, 26 are sophomores or freshmen, so the future remains bright for the program for the coming years.