Stay safe during heat wave
By Yvette Urrea Moe
County of San Diego Communications Office
Temperatures will rise and continue to build all week everywhere in San Diego County but particularly in the deserts, mountains and inland valleys. The hottest days are expected this weekend.
The National Weather Service in San Diego has issued an excessive heat warning for inland mountains and deserts, that will likely extend into next week.
Know the signs of heat illness, so that you can recognize and address them quickly.
"We remind people to have a plan for the heat," said County Deputy Public Health Officer Dr. Cameron Kaiser, M.D., M.P.H. "Take it easy, stay out of the sun, and stay hydrated. Check on your family, friends or neighbors who are older adults, have infants or children, or have chronic health conditions. These folks are the groups most prone to heat stress, and if you're one of them, we suggest you also take extra steps to avoid heat illness."
The County and its partners have opened Cool Zones throughout the region to help San Diegans keep cool during heat waves. People can enter their address once they navigate to the map to see locations near them.
Residents can call 2-1-1 to request information about Cool Zones or schedule a free ride to a Cool Zone if they lack access to transportation.
Extreme heat is typically linked to fire danger, learn about how to prevent fires, safeguard your property and stay informed if a wildfire or other emergency is ignited.
County health officials offer the following tips to stay cool:
Stay in an air-conditioned area during the hottest hours of the day.
Wear light, loose-fitting clothing.
Drink plenty of water (avoid alcohol and sugary drinks) and don't wait until you are thirsty.
Take cool showers.
Never leave a child, elderly person or pet unattended in a car.
Avoid unnecessary hard work or activities outside during the hottest part of the day.
Avoid unnecessary sun exposure and wear a wide-brim hat if you need to be in the sun.
Avoid using the oven to cook.
Avoid being out during peak heat hours.
Even a few hours spent in air conditioning can help your body stay cooler.
Do not rely on electric fans for cooling if temperatures exceed 90 degrees.
If someone is showing signs of heat-related illness, call 9-1-1 and begin cooling the individual by:
Moving them to a shaded area
Spraying with cool water and fanning them
Placing them in a cool shower if they are alert
Monitoring the body temperature, and continuing cooling efforts, and
Do NOT give the victim fluids to drink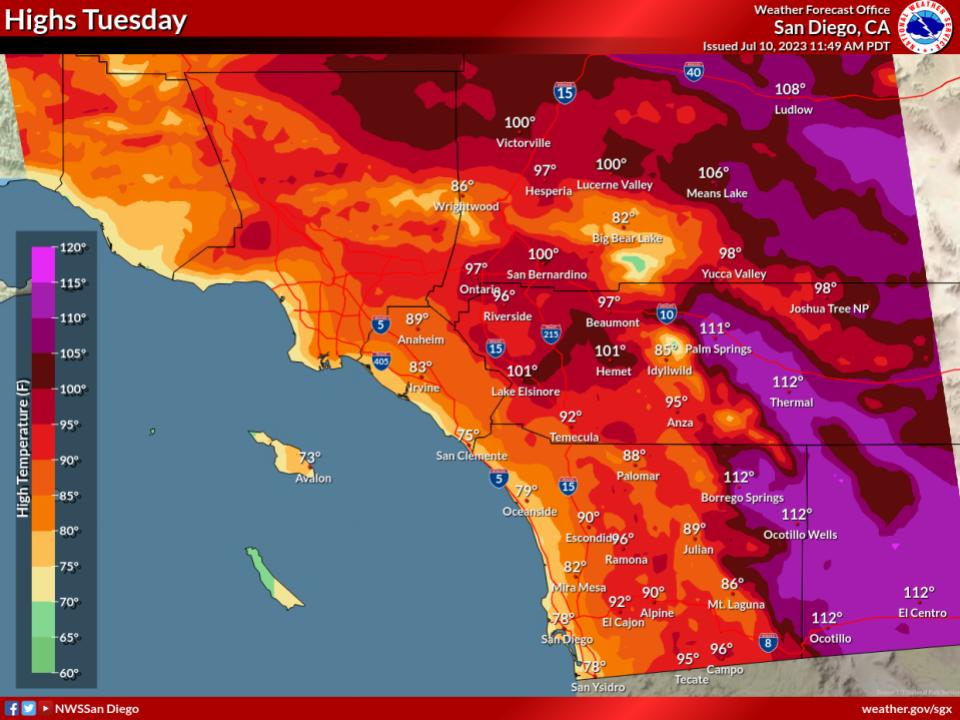 Keeping Pets Safe
Humans are not the only ones impacted by heat. Animals can die in a heat wave.
County Animal Control officers often become busy during the heat responding to rescue calls ranging from animals left in yards without water and shade to those trapped in hot garages or cars.
Pet safety tips:
Keep your pets indoors if the temperature is lower inside
Exercise pets in early morning hours or early evening to avoid prolonged exposure to the heat. Avoid strenuous runs or hikes
Keep your pets' water supply in a tip-proof container, always topped off, and be sure it stays cool (pets will not drink water that is too hot)
Consider a misting system to keep the outdoor areas cooler
Be sure your pet has shade all day if they are outside. Remember, the sun's position changes during the day
Do not take your pets for car trips unless absolutely necessary. A car can heat up very quickly. On an 85 degree day, a car can reach 102 degrees in 10 minutes and soar upward even with the windows down an inch or two
Don't take your dogs for walks on the hot pavement. If it is too hot for you to walk barefooted, then don't make your dogs do it either
Consider adding a child's wading pool for your dog. Many dogs will keep cool by "taking a dip"
If you see a pet that is in imminent threat of death or injury, call the DAS emergency number at (619) 236-2341. For non-emergencies, call (619) 767-2675.