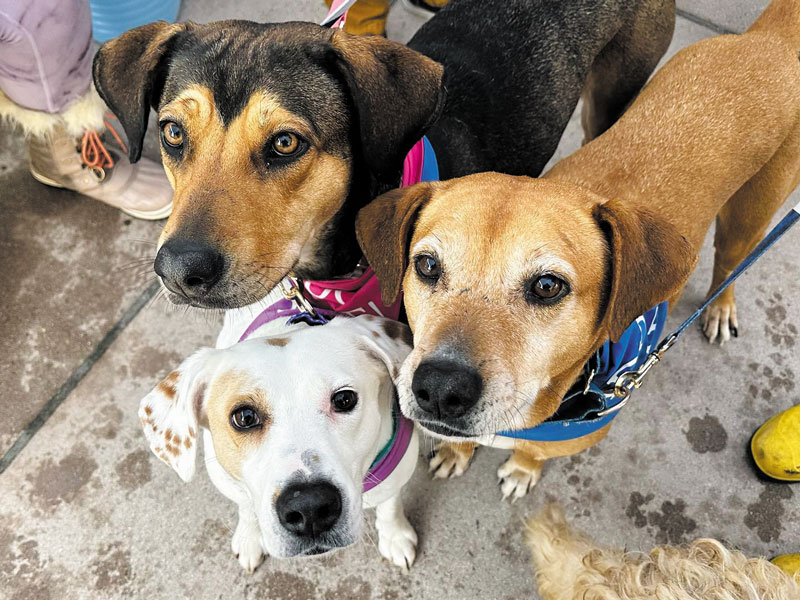 Stray pups gather for 'Pack Walks'
By Patricia Overton
Babs Fry is known all over San Diego for her expertise in locating lost dogs and helping stray dogs find their way into loving homes. She helps as many families as possible, making herself available as often as possible. Fry is especially popular in the Scripps Ranch area where there is a large pet population, fueled by a strong community of animal lovers.
Fry, also known as the "Dog Whisperer," has become the go-to person for help with lost pets. She's not only good at locating lost dogs, but also spends time caring for and nurturing abandoned ones. Fry currently has 60 dogs in her care – with fewer than a dozen volunteers helping her.
"Our nonprofit, A Way Home for Dogs, was originally established to help owners with missing pets, which is still the primary foundation of who I am and what we do. But as a sidebar, we are commonly asked to assist in securing dogs at large that are strays," Fry said. "Any loose dogs obviously should be assumed to be somebody's pet, but unfortunately, we often trap dogs that no one else can catch, and no owner comes forward. So, then the secondary piece of our organization tries to give these dogs an exit, an opportunity and a future, because most of them have a severe fear or potential behavior problems that, in a lot of ways, make them less desirable to the general public, or other rescues, from an adoptability perspective."
Fry has created a safe haven and a place where dogs who need help can grow and develop – and that is how the popular "Pack Walk" at Lake Miramar came about.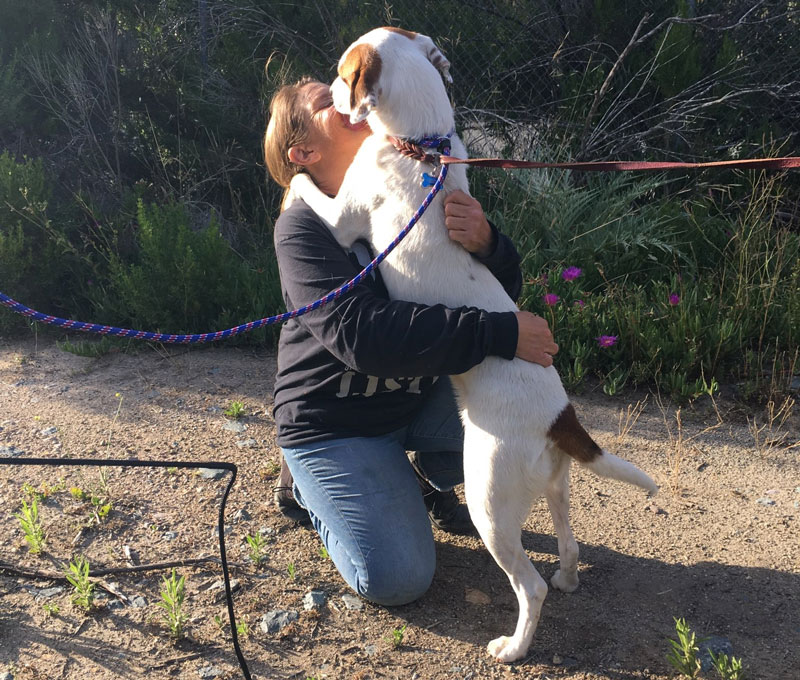 "We found ourselves in a position where we didn't have adoption events on a couple of days and decided it would be fun to get some of the more frightened dogs out and … go somewhere," Fry explained. "I had never been to Lake Miramar. It was a place that I heard people talk about frequently, and I just decided we would go – and we had a turnout there like nothing I've ever had. And if we can get this kind of turnout at Miramar, then I'll come to Miramar every month. … This is about getting experience for these dogs."
Part of gaining experience for the dogs is training them and supporting them in ways they will accept, which can be a process.
"We have a facility where we have a kennel and a ranch. We have onsite volunteers, but we currently need more so we can spend more time rehabilitating and caring for these dogs. We work on leash training, as well as people and dog skills, and the pack walk comes at the tail end of that," Fry said.
"Once these dogs have finally learned, in a controlled setting with particular variables, that life is okay, we then try to graduate them out into the real world. In order to do that, it means getting them to adoption events, taking them on Pack Walks, and things of that variety where normal life stuff happens, but in the company of dogs they're familiar with and people they know, and people that step up to basically be those strangers that are patient and kind and loving, to help them navigate that experience to gain confidence," Fry said.
Pack Walks are also a great place for those interested in adopting or fostering any of the dogs.
"If people want to come and see what dogs we have available or if they have any interest in any of our dogs, that's a great place to do that," Fry said.
The next Pack Walk is scheduled for Feb. 26 at Lake Miramar. If interested in volunteering for a Pack Walk, submit a volunteer application and confirm in advance. Learn more at awayhomefordogs.com or on the A Way Home for Dogs Facebook page.