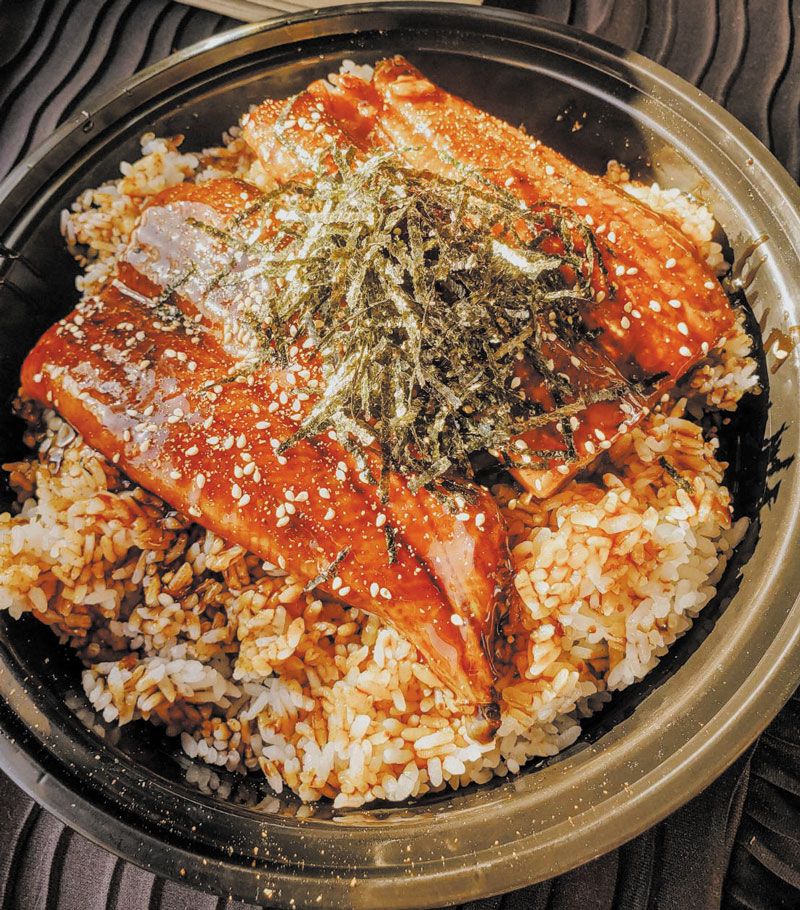 Sumosize Japanese Street Food
By Terry L. Wilson
Sumosize Japanese Street Food is earning culinary black belt with every homemade dish served at the Scripps Ranch Farmer's Market.
Natapong Thamcharoen is the chef behind the grill, and each week he is winning new fans with his made-from-scratch beef, chicken and fish recipes from Japan and Thailand, topped with his special teriyaki sauce.
"I have a very big menu and a very long name. Everyone just calls me 'Hi,'" Thamcharoen said. "Everything I make is fresh; I even make my own teriyaki sauce. It is perfect with my rice bowls. We only serve hot food, no sushi. We don't precook anything. All our food is cooked at the Farmer's Market."
Sumosize brings its tasty selection to the Scripps Ranch Farmer's Market each Thursday.
"We offer everything from traditional beef, chicken and fish rice bowls to eel and 'octopus balls.' That dish is made up of sweet octopus meat and green onions in a pancake-like batter that's deep-fried. We serve it with a Japanese barbecue sauce and white mayonnaise topped with dried fish flakes. It tastes better than it sounds," Thamcharoen said. "Unadon is another traditional food. It's grilled eel in a rice bowl topped with eel sauce, our homemade teriyaki sauce, sesame seeds, dried seaweed flakes and chili powder."
Hi's booth affords visitors the opportunity to treat their taste buds to dishes that range from exotic to traditional, and everything is fresh.
Thamcharoen was born in Thailand and moved to the United States in 2012 to find work to support his family.
At age 21, he met a man who had a booth serving outdoor markets in San Diego.
"We became friends. He lived many years in Japan and spoke fluent Japanese. Suddenly he had to move back to Japan and needed to quickly sell his business," Thamcharoen explained. "Even though I knew very little about Japanese food, I took a chance and bought his business. For two weeks he taught me how to make sauce, prep food and how to cook Japanese favorites. … I began doing markets on my own, but things didn't work out for me. I learned the hard way how quickly things can go wrong."
Thamcharoen soon discovered the perils of being a one-man-band, trying to cook while serving crowds. Mother nature also played her part by teaching the fledgling entrepreneur about dealing with fickle winds.
"The wind would change directions. It blew on my grill, heating up the charcoal causing everything to overcook and burn," Thamcharoen said. "Once my wooden skewers caught on fire. I wasn't able to handle the pressure of a crowd ordering all kinds of different dishes. I was only one person; the stress was overwhelming. It was a terrible experience, but I eventually learned from it."
He enrolled in culinary school, where he mastered the art of cooking, and how to run a successful business. Today, Thamcharoen and his wife, Ashley, operate several successful Japanese street food businesses.
"I started as a server and now I do what I love to do," he said. "I fell in love with the Scripps Ranch market. Everyone there makes me feel like I'm family."
Sumosize can be found at the Scripps Ranch Farmer's Market, held from 3 to 7 p.m. each Thursday at 10045 Carroll Canyon Road (next to Newtopia Cyder). There is plenty of parking across the street at the National University parking lot.