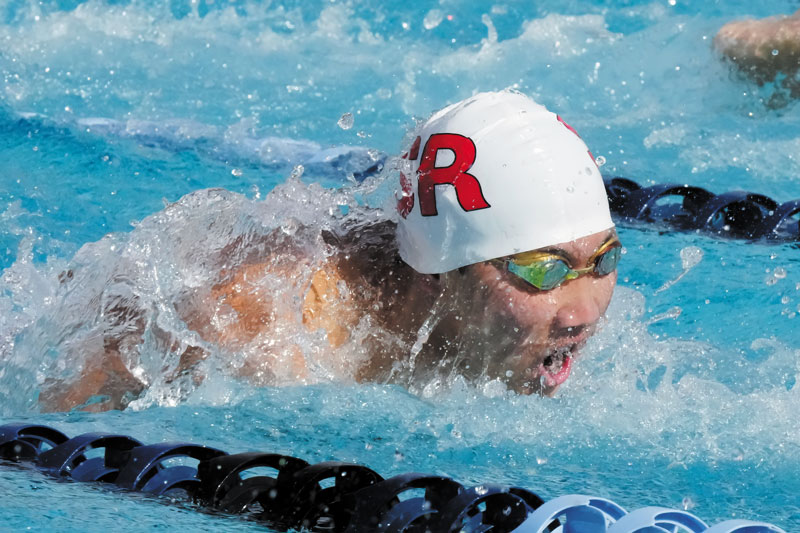 Swim & dive team finishes impressive season
By Hector Trujillo
The Scripps Ranch High School swim and dive team finished off an impressive 2023 season which concluded the beginning of May with several standout athletes getting better as the season progressed.
The team saw 21 athletes qualifying for City League Conference and 19 swimmers making it to the finals held at Coggan Family Aquatic Complex in La Jolla High School. The dive portion was held at Cathedral Catholic High School during the last week of April.
"Our swim and dive team had an amazing season," said Scripps Ranch High School swim and dive coach Liddy Liao. "Everyone did amazing during the City Conference meet, showed awesome personal times and performed especially well in our relays. All our relay performances were top-notch and incredibly fast."
Some of the most notable performances were that of sophomore Nicholas Bai and freshman diver Ashley Lawlor – who placed third at the City League Conference meet. Bai earned his medals for the 100 butterfly and 100 backstroke while Lawlor qualified for the CIF finals and got her medal for one-meter diving.
A total of 16 swimmers qualified for CIF, with most of them making automatic cut times and 10 of them making it to the finals as well.
"Nicholas Bai, Ethan Adams, Kai Sarti Guerro, Don-avan Ellis epically won the consolation final with their best time," Liao said. "Cameron Lee, Isabella Putter, Nita Kamath, Sonali Caffery received their medals for the 200 medley relay."
Liao also coaches at Patrick Henry High School and began swimming competitively as a child, eventually becoming a member of the Russian national swim team for several years. After her professional swim career, she became an assistant and later a head coach of many swim teams in Russia and the United States along with successfully developing swimming schools in Sacramento and San Diego.
The Scripps Ranch athletes who made it to finals were Cameron Lee, Isabella Putter, Nita Kamath, Sonali Caffery, Tara Kamath, Emily Konold, Addison Vickers, Jillian Green, Nicholas Bai, Ethan Adams, Kai Sarti Guerro, Connor Ducharme, Donavan Ellis, Hayden Cox, Kevin Chu, Kenneth Kim and Ashley Lawlor.
The CIF San Diego Section Championship went from May 3 to May 6 at Granite Hills High School, with the CIF State Swimming & Diving Championships taking place from May 11 to 13 at the Clovis Olympic Swim Complex in Fresno, but no Scripps Ranch athletes made it that far.