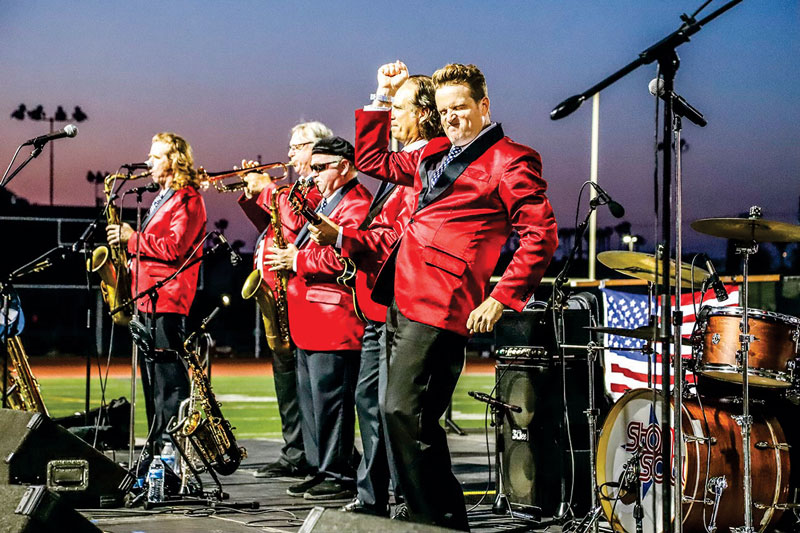 Symphony in the Park features Stonesoul
By Ashley Shah
Stonesoul will perform on Aug. 13 in the Scripps Ranch Symphony in the Park free summer concert series at Hoyt Park.
Stonesoul plays classic covers from the Motown era.
"I love Motown music because it has been so ubiquitous in our upbringing. It is classic soul. It is a genre that is so respected," said lead singer Matt Grey. "Most people have heard the music we play because they are such classics. You have songs from people like Stevie Wonder, Michael Jackson from The Jackson 5, and more."
Motown music from the '60s and '70s is what Stonesoul primarily plays.
"We like the era that we play from. The music is so fun and pure. These are songs that have been used in commercials, kids' cartoons, games and more," Grey said. "Whenever we play, by the second song the dance floor is full. Motown as a genre is far reaching. I always see people from all ages dancing and singing along to these songs." 
Stonesoul has been playing Motown music for more than 20 years. Their first performance was Nov. 4 in 2002. 
"Ever since our first performance, we have been playing steadily ever since," Grey said. "I got the band started because I wanted to play music from the Motown era. It wasn't that hard to find people who also wanted to play Motown music."
The band consists of Grey, lead singer; Tom Curry, drummer; Rex Merriweather, trumpet; Danny Moynahan, saxophone; Clay Manska, keyboards; David Abercrombie, bass; Lance Rickman, saxophone; and John Nevolo, guitar.
"We have had people come in and out of the band since we started. But, the current set of people in our band have been playing together for six years. I'm really proud of the music that we create together," Grey said.
The band plays about 75 to 80 shows per year.
"Because we play so often, we don't really have rehearsals or practice. We are the busiest in the summer; we do about thirty-five to forty shows. We do about three to four shows a week," Grey said. "On the Fourth of July, we did two shows in one day, which isn't uncommon for summertime." 
While the band primarily plays in Southern California, it has traveled to perform as far as Texas, Arizona and Nevada. Their performances range from doing private events to free concerts.
The band is looking forward to performing in Scripps Ranch.
"We have never been to this venue, but everyone that we have worked with has been great. We have heard it is an amazing venue, so we are looking forward to seeing and performing in it," Grey said. "Our main goal is to make sure people have a great time. It is always so nice when people come up to you after performances to tell you how much fun they had at the show."
The Aug. 13 performance by Stonesoul begins at 6 p.m. and ends at 7:30 p.m. Concert attendees are encouraged to arrive early. No high back chairs are allowed, and no one should bring their pets. Do not spread plastic tarps on the ground because they kill the grass.
Visit symphonyinthepark.org.