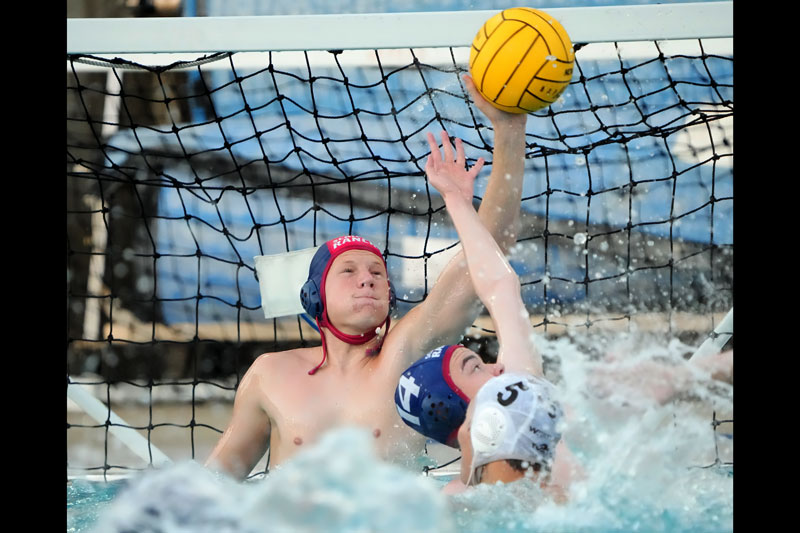 Team hopes to make waves
By Hector Trujillo
The Scripps Ranch High School mens water polo team looks to improve on last season's 10-10 record, having already started play in 2023.
The Falcons saw a marked improvement from 2021 to 2022 by winning three more games and will play a total of 13 matches this regular season. "We're a young team playing behind two seniors," said head coach Brad Oestreich.
The two seniors are Kai Sarti-Guerrero and Dario Rissolo, whose experience will be an integral part of the success that the Falcons will have as they lead the 32-player roster.
"We played some tougher teams at the beginning, getting us ready for league games later in the season," Oestreich said. "This is our last 'COVID' high school class. The senior class this year were freshmen (during the pandemic), so I think the team will be consistent with five to seven guys per year. Our depth is growing after this year."
SRHS opened the season Aug. 12 with a dominating 17-3 victory over Escondido, followed by losses to Mar Vista and Westview High School, but was able bounce back with an impressive 23-3 road win over Mount Miguel on Aug. 29.
"We got moved down to division three, which is fantastic," Oestreich said. "I think it's a lot better for the team. We have our sights on CIF and doing well in league. I think our biggest challenge for league this year will be La Jolla Country Day (LJCD)."
The third-year coach and father of two played water polo and swam for Scripps Ranch High School from 1996 to 1999.
The match versus LJCD is on Thursday, Sept. 21. That will be followed by another road game against Canyon Hills on Sept. 28, with Scripps Ranch returning home to take on High Tech San Diego on Oct. 5 – a team it soundly defeated both times last season by scores of 12-6 and 18-11, respectively. Scripps Ranch will close out the regular season with three straight road games versus La Jolla High School on Oct. 23 followed by a rematch versus High Tech San Diego on Oct. 26 and closing out against Del Norte High School on Oct. 27.