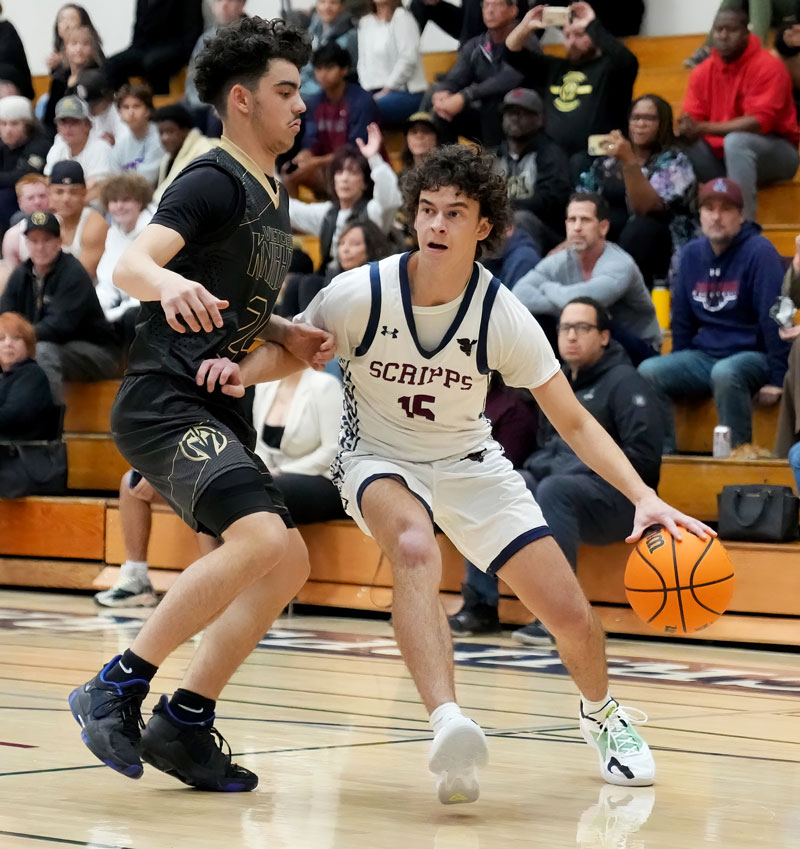 Team optimistic for possible repeat
By Hector Trujillo
The defending CIF Division IV State Champion Scripps Ranch High School (SRHS) mens basketball team looks for a repeat performance from last season. 
Despite no longer having the services of multi-sports star athlete Jax Leatherwood, who will attend the
University of Nevada, there is still optimism they can achieve the feat with so many games still left in the season.
"We have five transfers that came in and three returning players from last year," said head coach Brock Flint. "We feel pretty bullish about our chances."
Despite not having six players available at the start of the season, the Falcons managed to get their first win on Nov. 22 against Eastlake High School in dominating fashion by a score 61-45.
Among the players who will be instrumental in making a run for back to back titles are senior captain Jaiden Schube, senior Jona Dawson, junior Rowen Wimmer, along with junior transfer Kai Brown and senior transfer Micah Brickner.
"Defensively we'll see some more pressing and some more man than last year because of different personnel," Flint said.
"We have the Torrey Pines tournament circled on our calendar because that's when our full team will finally be here," Flint said. "That weekend will be a big test for us with some really good open division teams here in San Diego."
Flint was named D4 coach of the year in April of this year.
The 2022 Torrey Pines Holiday Classic basketball tournament begins on Dec. 23 and also goes from Dec. 27 through the 30th. This will be the 32nd edition of the nationally-sanctioned high school basketball tournament played annually in San Diego.
The Falcons have 18 total games remaining in the regular season, including tournament play, with league competition starting on Jan. 6 at home versus Mira Mesa High School. That game will be followed by a road game at Madison High School on Jan. 10 with Scripps Ranch then playing back to back road games against University City and Lincoln High School on Jan. 13 and 14, respectively. The Falcons return home to take on Coronado High School on Jan. 20, travel to take on Cathedral Catholic High on Jan. 24, xollowed by a rematch against Mira Mesa on Jan. 27. The team returns home on Jan. 30 to face Madison
High. Scripps Ranch closes out the regular season against University City High on Feb. 3, Del Norte High School on Feb. 4 and Coronado High School on Feb. 10.