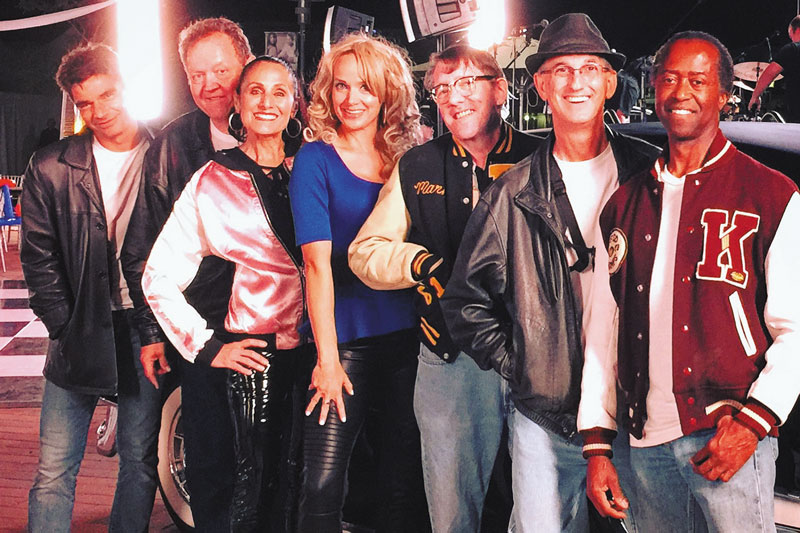 The Heroes take center stage on June 12
By Terry L. Wilson
Scripps Ranch resident Tommy Boyd and The Heroes band are amped up and ready to hit the stage for Symphony in the Park on June 12 in Hoyt Park. 
"I started the band in 1981," Boyd said. "We began playing in local clubs, then we transitioned into playing for corporate events, then themed events, and it wasn't long until we were performing all over the world. Our theme parties include: A Speakeasy from the 1920s to a World War II USO show with three girls doing the Andrews sisters to hits by Benny Goodman and Glenn Miller."
With Boyd center stage, he led his band onto his home turf playing a "gig" for the Scripps Ranch annual concert series, Symphony in the Park, that has now become a staple and fan favorite.
"We started performing at Scripps Ranch in the late '80s, and in 1991 I became a resident of Scripps Ranch," Boyd said. "My wife has lived here (Scripps Ranch) since 1972. I loved the community, so I bought a house in 1991 and several years later I became a member of the … committee and now I'm on the board of directors."
With Boyd's help, the concert series has undergone numerous face-lifts. In the beginning, the stage was a flatbed truck. Today, the bands have professional sound equipment. 
"We actually put two flatbed trucks together to make a stage," Boyd said. "And that was taken care of by the Scripps Ranch Old Pros, which is a group here at Scripps that promotes local events and scholarships for students in Scripps Ranch. They created a permanent stage that would fit any band."
In addition to dressing up the stage, thanks to Boyd's connections with the music community, he was able to persuade a diverse parade of talent to perform for Symphony in the Park concerts.
"I've been playing music all over San Diego for a long time," Boyd said. "That gave me an opportunity to let other bands, and band leaders, know about our concerts in the park series. I helped them to see the benefits of performing here because the Scripps community has companies that put on large events. So, it was a great way for other bands to network for jobs by appearing on our stage."
Taking a cue from Bob Hope's legacy of performing for service men and women in wartime and peace, the Heroes have picked up where Hope left off by following in his musical footsteps.
"Although we do corporate extravaganzas and weddings all over the world, the proudest thing we do is from Feb. 14 through mid-April we play for the troops all over the world," Boyd said. "We started doing that about 31 years ago. We've also done a lot of USO shows. In fact, the USS Midway was the first aircraft carrier we played on that wasn't moving."
Boyd went on to praise his band members of 30 years: Laymon Davis, Mark Moorhead and Mattie Mills. Each one brings something special to the group.
Collins Family Jewelers is the host-sponsor for the June concert.
The free summer concerts begin at 6 p.m. and end at 7:30 p.m. at Hoyt Park.
For additional information, visit symphonyinthepark.org.