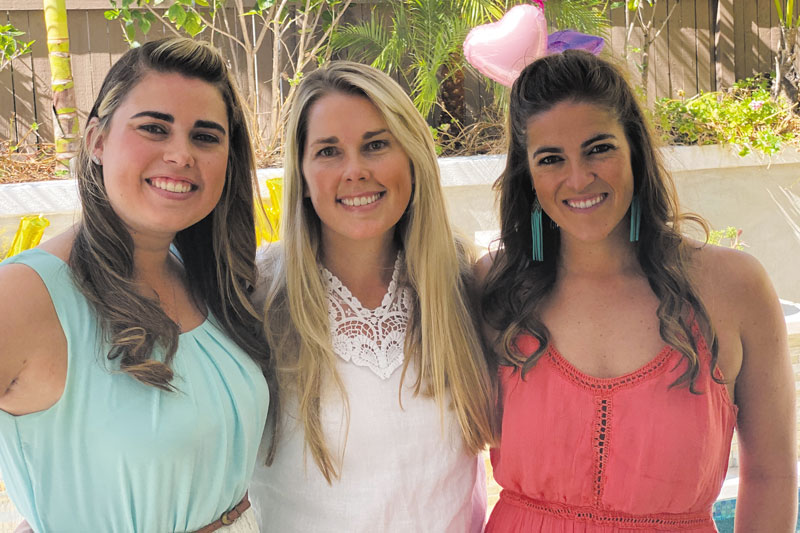 Three sisters gain careers helping others
By Ashley Shah
Jackson and Chris Muecke are local residents who have lived in Scripps Ranch for 35 years. They raised children who are now grown: Alexis, Josh, Meredith and Lauren.
Along the way, it occurred to the parents that all three of their daughters are now working in fields to serve humanity in some way.
"The three of them are sensitive to the needs of others and are dedicated toward helping those they serve in and out of professions," mother Chris said.
Here, the three sisters share their journeys that brought them to their present career fields.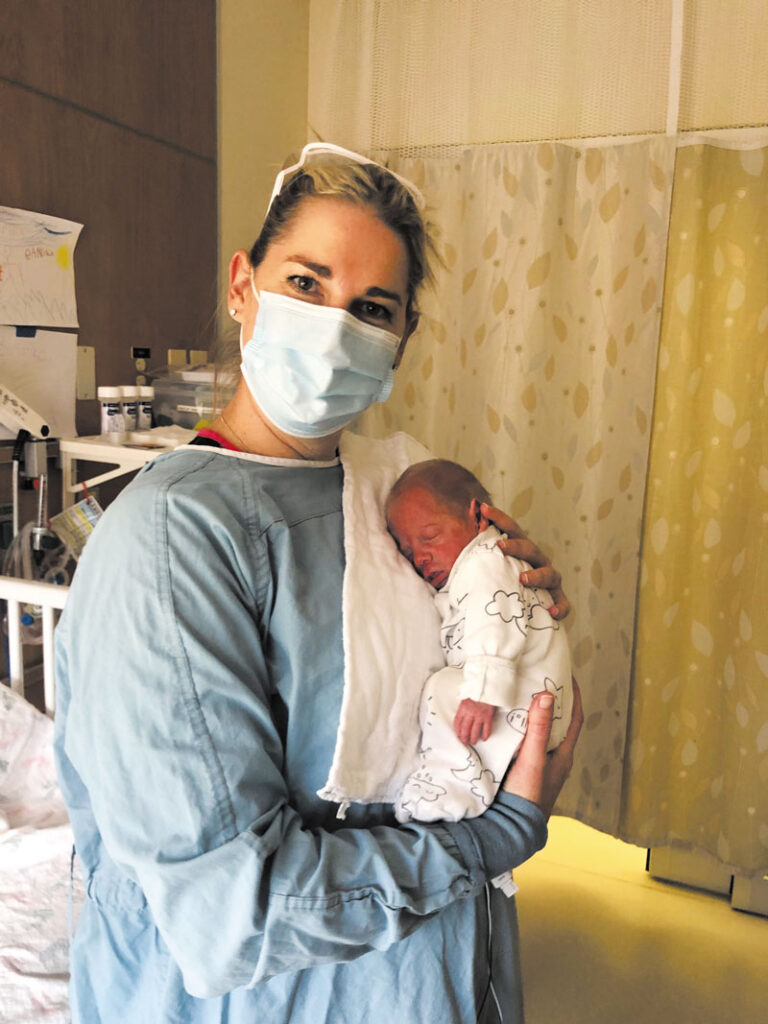 Alexis Lopez
Neonatal Intensive Care Unit nurse
Graduating from Scripps Ranch High School (SRHS) in 1998, Alexis Lopez went on to the University of California, Davis (UCD) on a water polo scholarship.
She graduated in 2002 with a degree in Human Development.
"I originally wanted to work in the FBI, but I had talked with a lot of women in that career, and it didn't seem like the right option for me anymore," Lopez said. "Like my dad, I tried about 14 other careers – before choosing nursing. We had a family friend that brought me into Scripps Grossmont (Hospital) to be a unit clerk, and no matter what happened, I always ended up back at the hospital." 
In 2010, Lopez decided to attend nursing school. She graduated in 2012 from National University with a bachelor's degree in Nursing. 
From 2014 to 2016, Lopez got her master's in Science and Nursing in hospital management and leadership from Grand Canyon University. Lopez worked at Scripps Mary Birch Hospital for the first year of her master's and Rady's Children's hospital for the second year.
She then became a school nurse for about a year and a half, while still working every now and then at Scripps Mary Birch Hospital.
In December of 2019, Lopez returned to working solely at Scripps Mary Birch Hospital as a charge nurse.
"Then, COVID hit, and initially I was as scared as everyone else. I didn't know how to take it. But, the whole experience has been eye opening," Lopez said.
She now plans to move into something new at the hospital.
"That's the great thing about nursing – there is so much to learn and do," she said.
Out of all of the career paths she has tried, nursing remains her favorite.
"I love taking care of people, and especially in the NICU. A baby is there because they are not healthy. You are in their lives for a short time, but you make such a big difference and it is such an honor," Lopez said.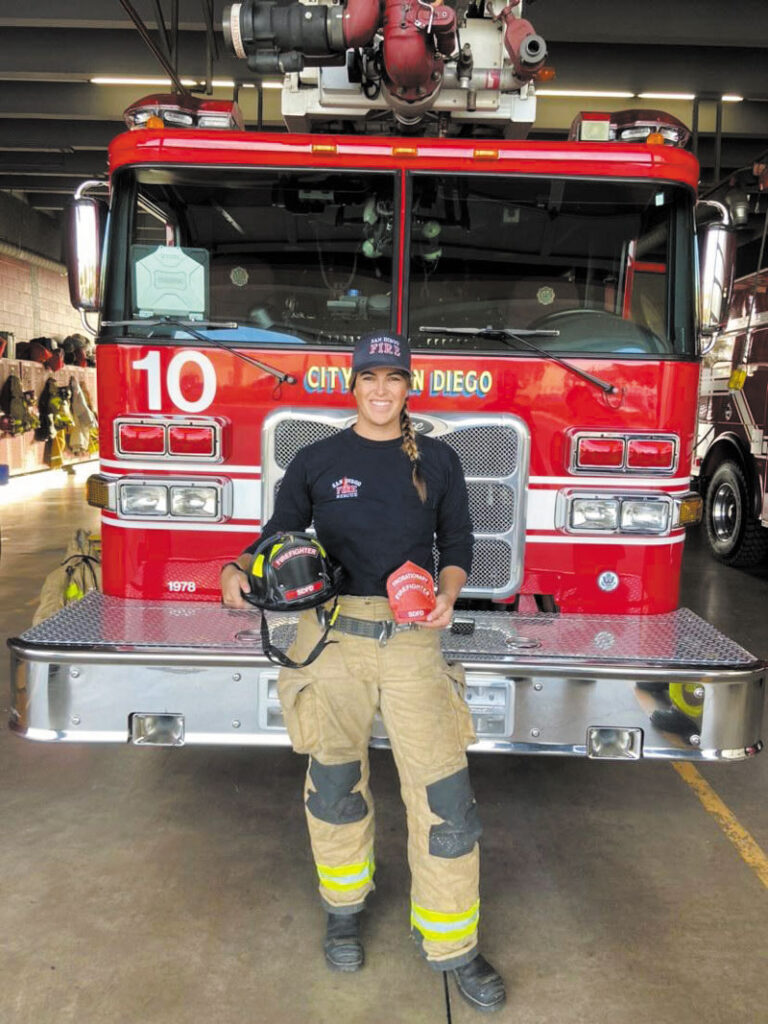 Meredith Muecke
Firefighter
After graduating from SRHS in 2005, Meredith Muecke also went to UCD to play water polo.
She graduated with a degree in Exercise Biology and a minor in Chicano Studies in 2010.
After graduating, she worked at Fitness Quest 10 for about two years as a physical therapist.
"I really enjoyed the work and experience I had working with professional, elite athletes," Meredith said. "However, unfortunately with just a bachelor's degree, I wasn't able to make enough to cover my bills … So, I ended up looking for options and eventually found firefighting."
In 2017, she began her journey to become a firefighter by starting her EMT training at Miramar College. She also took fire science courses in the Fire Technology program.
"I absolutely loved every minute of my training and was fortunate to be in the very first California State Marshall Firefighter I Academy class through Miramar college," she said.
Post-graduation from Miramar, Meredith stayed on as a teaching assistant at the college.
"I wanted to maintain and improve my skills while trying to get hired by a big city department," Meredith said.
Around two years ago, she began working at and is still with the San Diego Fire-Rescue Department.
"I received job offers from both San Diego Fire and Orange County Fire Authority at the same time, but I knew San Diego Fire was the right department for me. I wanted to be close to my family and mentors who supported me," Meredith said.
She shared her future plans.
"I really have a desire to get involved with our training division. We put a lot of emphasis in our training division which is why we are such a well-respected division," she said.
At one point in her life, Meredith was not even aware that there could be female firefighters, but she has found a love for it that will never fade.
"I knew I always had a desire to know what to do, and help people in an emergency situation. This job involves so much of what I love; being outside, working as part of a team, and constantly being able to challenge myself to learn new things and grow," Meredith said.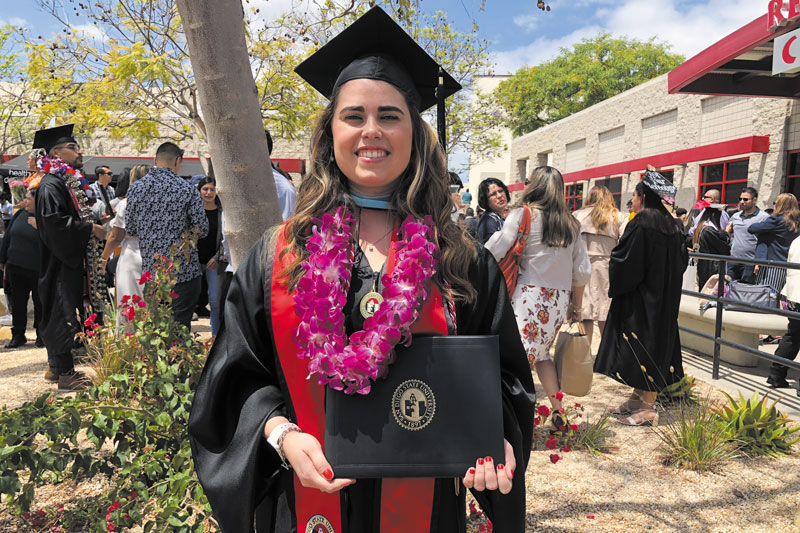 Lauren Muecke
Mental health psychotherapist
Graduating from SRHS in 2008, Lauren Muecke then studied at Northern Arizona
University. She graduated with a degree in International Hospitality in 2012.
"I did some research for about two years after I graduated because I knew I wanted to change career paths into something in the psychology field," Lauren said.
From 2016 to 2018, she attended San Diego State University (SDSU) to get her master's in Child and Family Development with an emphasis in Child Mental Health.
Since graduating from SDSU, she has been working toward becoming a Licensed Professional Clinical Counselor (LPCC).
"Once I graduated SDSU, I applied to the Board of Behavioral Sciences to get my license. Usually, it takes about two to three years to get the 3,000 hours of supervised therapy required for the license," she said.
She worked for two programs for New Alternatives, a therapeutic behavioral service until about June 29 of this year.
"I worked for the Crisis Action and Connection program for about a year, and then I worked at the North County Outpatient School Based Services for a year and a half," Lauren said.
On Aug. 9, Lauren began a new job at a pilot program that is coming to San Diego which aims to help mental health crises without law enforcement assistance.
"I am super excited to be a part of this new program. I will basically be like a first responder, but to mental health crises, which is awesome," she said.
Lauren described her long-term goals.
"My goal kind of ties in with this job because I want to be able to create a program where law enforcement and first responders are able to learn how to de-escalate mental health issues without violence. I think if we were all just more educated, we could handle these situations in better ways, and more lives would be saved," Lauren said. 
She currently has about 2,500 hours of supervised therapy experience and is
continuing on her way to her license.
"I think I have always been interested in psychology, but now I for sure know I am in the right place. I love seeing people transform from this state of distress to peace. I love the experience of knowing I can help one person at a time," she said.