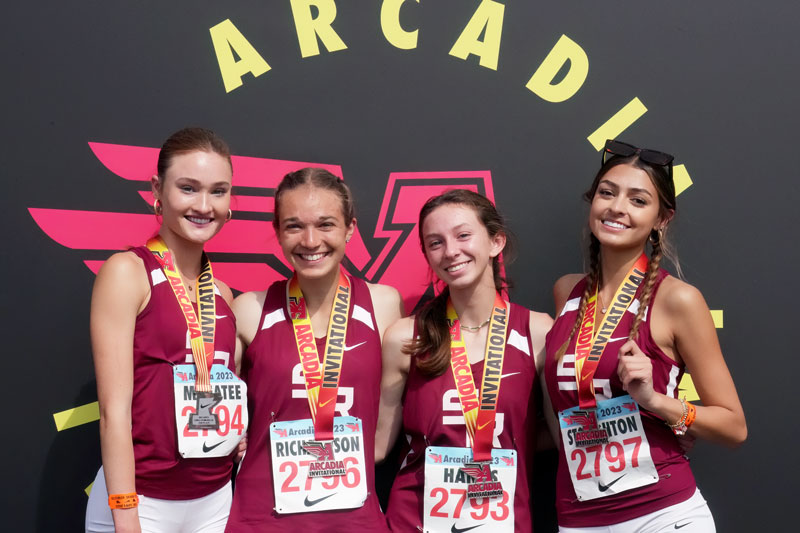 Track & field team gears up for CIFs
By Hector Trujillo
Having finished all the scheduled meets for this season, the Scripps Ranch High School (SRHS) track and field team now gears up for CIF and state competitions starting with the City Conference JV Championship at Canyon Hills up next on April 28.
"The team is progressing as it should," said SRHS head track and field coach Kadrina Coffee. "There's improvement every week, so I'm a happy coach as long as I see improvement."
The first meet of the season that the Falcons took part in was on March 4 at the Mt. Carmel Field & Distance Carnival, and the final one was on April 22 at the Dick Wilkins Frosh & Soph Championships held at Del Norte High School. There were several standout performances throughout the 13 events SRHS took part in, but the most noteworthy came from Lizzie Tarczy who made school history on March 23 at the meet against Mira Mesa and University City where she cleared 5 feet, 7.75 inches to break the school's all-time high jump record. Tarczy also tied her own record on April 5 at the Scripps Ranch High versus Cathedral Catholic High meet held at Cathedral Catholic.
"Personally, I think I do much better jumping in the heat," Tarczy said. "Something that my coach does that I think works really well for me is that I put the bar at a super high height. I just see it over and over again, so I'm not scared of it when I do see it in the meet."
The Falcons have a total of 140 athletes on this year's team, which is a sharp increase from 2022, but are without the services of Aaliyah McCormick who now competes as a freshman for the University of Oregon. McCormick, who was ranked as the number one hurdler in the state, chose Oregon over Nebraska and San Jose State – the other schools she was considering.
"The more athletes I can take to the State meet, the better," Coffee said. "My hopes and expectations are always to get to CIF prelims and finals, and then onward to State."
The 103rd CIF State Track & Field Championships are May 26 and 27 at Veteran's Memorial Stadium on the campus of Buchanan High School in Clovis.
Coffee has been coaching at SRHS for seven years and has had a prominent career in the sport which includes making the U.S. national team that competed in the 1995 Junior Pan American Championships in Chile where she took third in the 400 meters.