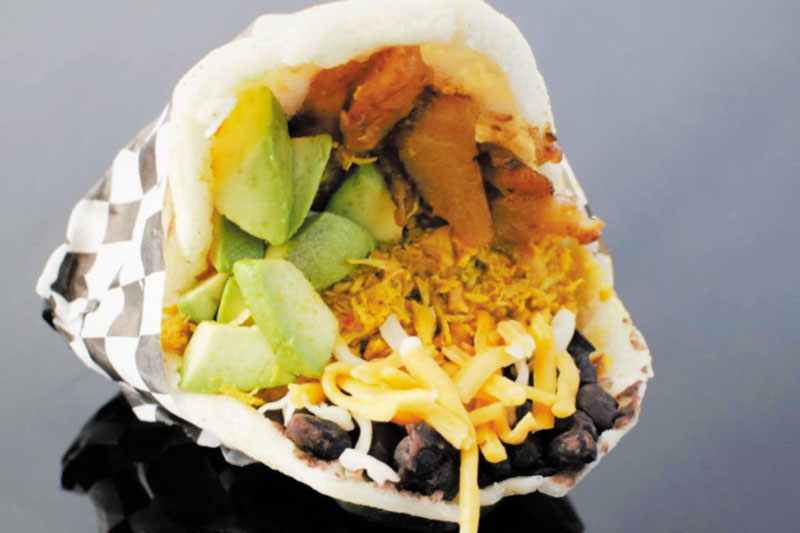 Traditional food from scratch
By Terry L. Wilson
A visit to the Scripps Ranch Farmer's Market is akin to treating yourself to a culinary trip around the world with each food booth tempting your taste buds with an exotic treat from a faraway land to a homemade pizza from down the street. 
Allan Balestrini came to the U.S. from South America 16 years ago, bringing with him an array of gluten-
free arepas from his Arepex Grill booth.
"We sell arepas, which is a Venezuelan food made of ground corn with my unique toppings," Balestrini said. "Arepas are like a flat tortilla that you can open like a pita bread pocket. Arepas can be fried, but we grill them the traditional way, making them lower in fat.
"We have pork, chicken; and a fried combination with cheese, avocado, black beans and sweet plantains which is a fruit that tastes like banana. So, we can be vegan with meat options."
Both the vegetarian and meat options are filled with shredded mozzarella and cheddar cheeses, and hunks of fresh avocado.
"One of the meat options we have is the chicken king. It takes five hours to cook," Balestrini said. "We add bell peppers, garlic, onions and turmeric. We have another one that is very popular, also with pork with garlic, that takes one hour to cook."
The griddled corn rounds are a tasty treat on their own, even better when stuffed with meat, chicken and black beans combined with Balestrini's homemade spices.
"The outside part of the arepas may seem like baguette bread, but it's white corn," Balestrini said. "When
they're ready, they are very crispy on the outside and creamy on the inside. When they come out all the heat from the inside steams the cheese inside. It is very tasty."
Balsetrini has something at the market for every taste bud, from mild to fiery.
"Our arepas are not very spicy," he said. "For my customers who like their food spicy, I have bottles of Sriracha along with mild, creamy Venezuelan cilantro sauce."
Balestrini believes that everything should be fresh and healthy, right down to the hand-rolled dough.
"We do each arepa by hand, so one may look different from the next. The dough looks white like it's from flour, but it's actually the white corn, just like we made it back home," Balestrini said.
"My wife has been with me from the beginning. Together we have built the business and grown the business together. We have expanded with a catering service. We do weddings, birthdays, corporate events and of course, farmer's markets," Balestrini said. "We love the Farmer's Market at Scripps Ranch. The manager, Bev, is very supportive and the people who shop here are very nice. It's a great crowd."
For more information about Arepex Grill, visit www.arepexgrill.com.
The Arepex Grill booth can be found at the Scripps Ranch Farmer's Market, held from 3 to 7 p.m. each Thursday at 10045 Carroll Canyon Road (next to Newtopia Cyder). There is plenty of parking across the street at the National University parking lot.