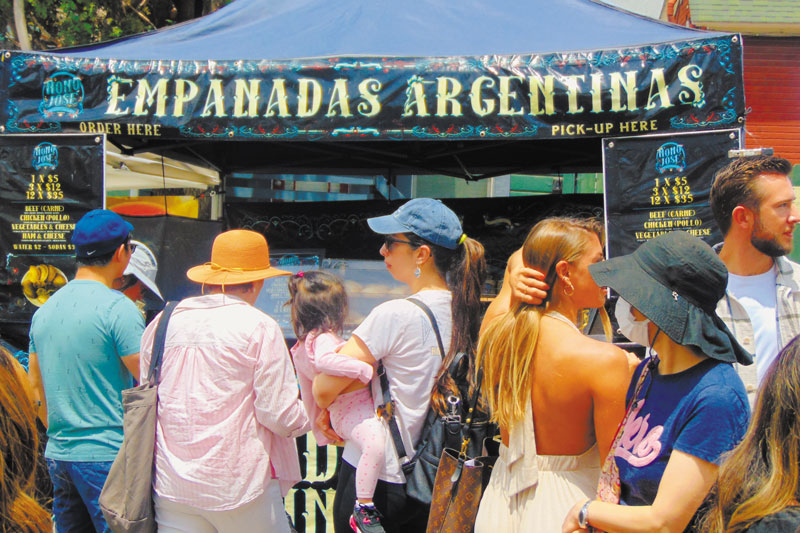 Try empanadas for your stomach and soul
By Jill Alexander
If you've ever eaten an empanada, you already know how wonderful these half-moon-shaped baked pastries are. But if you've never had one, you're in for a treat.
An empanada is made with wheat flour dough, baked and filled with traditional ingredients such as meat, chicken, spinach, mozzarella, ham and cheese.
You can find authentic Argentinian empanadas at the Scripps Ranch Farmer's Market on Thursdays prepared by Nelson Cuberli of Nono José Empanadas.
Cuberli, 38, of San Diego, has been whipping up authentic Argentinian empanadas for years and he loves making these yummy treats.
"I specialize in authentic and traditional Argentinian empanadas," he said. "In San Diego, I started making them one year ago, also in Mexico for about two years, and in Argentina when I learned the recipes."
He's been at the Scripps Ranch Farmers Market for two months.
"I also distribute to some coffee shops, and I am working on opening a store in the near future," he said.
"What I can tell you about my empanadas is that it is a secret and exclusive recipe of 100 percent baked dough; it's what gives it just the right texture, plus a variety with the authentic flavors of empanadas that we prepare in Argentina," Cuberli said. "There's nothing more original than [one] prepared by an Argentinean."
His grandfather taught him how to create the perfect empanada.
"The recipes are all from my grandfather José Cuberli. That's why the name is 'Nono José Empanadas.' The prefix 'nono' in Argentinian means 'grandfather,'" he said.
Cuberli spends most of his time preparing his empanadas in a commercial kitchen in downtown San Diego, as well as pursuing a career in the music industry, he said.
"Everything I know I learned on my own, from an early age, watching cooking shows and also watching my grandparents, my mother and my father, from whom I learned one of my maximum specialties in cooking which is everything related to what we call 'asado Argentino' which as you know in Argentina is an art," he said.
"I love the vibe at Scripps Ranch Farmers Market, from the vendors and the organizers, especially the manager Bev, and also from the attendees, lots of families, lots of kids, and all this set to music by a DJ," Cuberli said.
"My most popular item is the empanada de carne, which is the most traditional Argentinean empanada," he said. "We're committed to providing an outstanding experience to every customer who visits our stand. Our friendly and helpful team is always ready to help choose the right flavors and make your visit as enjoyable as possible."
Empanada prices: One for $5, three for $12 and 12 for $35.
Visit Jose Cuberli at the Nono José Empanadas booth at the Scripps Ranch Farmer's Market, held from 3:30 to 7:30 p.m. each Thursday at 10045 Carroll Canyon Road.