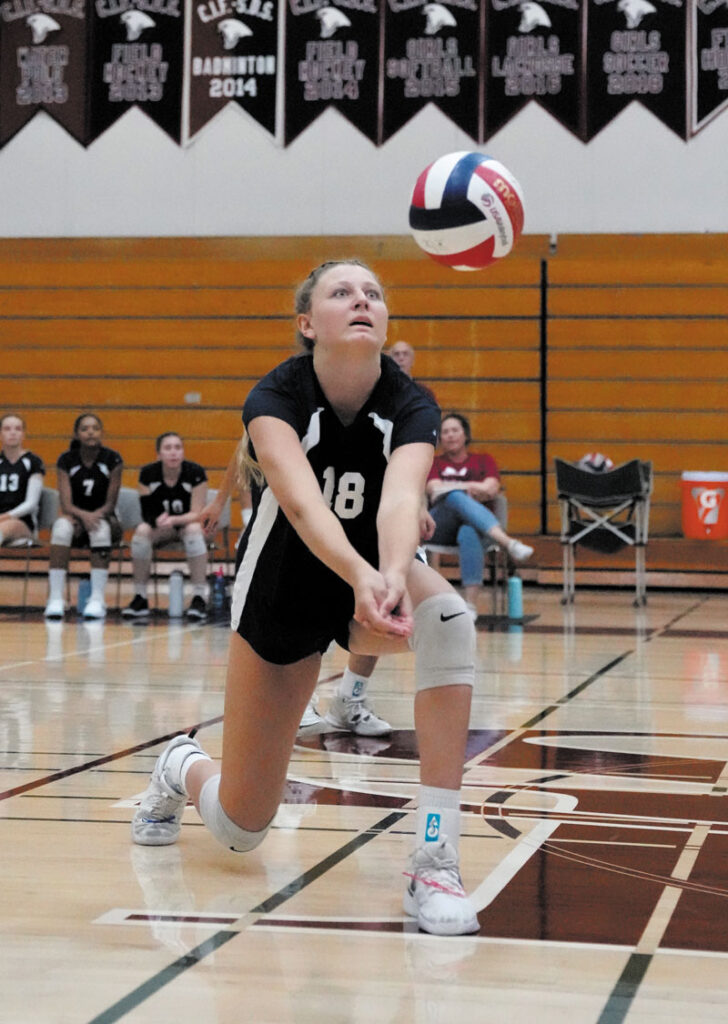 VB team looks to finish strong
By Hector Trujillo
Despite a slow start to the season, the Scripps Ranch High School (SRHS) varsity womens volleyball team strives to have a strong showing in league play with six of its final 10 matches at home.
The team started off strong with a dramatic five-set win over Ramona High School on Aug. 17 and proceeded to split the first six games, which also included victories over West Hills High School and Mt. Carmel High School.
"Our goals this season are to improve each player's individual skill set while learning how to play as a team and improve each week," said head coach Roni Hooper. "Being an inexperienced varsity team, we are learning more about high level play, what to expect on defense and offense, and how to maintain a high level of energy consistently throughout a match."
Prior to becoming head coach in 2015, Hooper was the assistant under Ronni Olsen for five years. She also played for Olsen and was a Lady Falcon herself, winning back to back CIF championships in 2003 and 2004.
The current team has three returning starters out of 18 players. The returning starters are fourth-year varsity senior and captain Lia Go-Soco, third-year varsity senior Emily Anderson, and third-year varsity junior Audrey Hilliard.
"Even though we have three returning starters, we lost five very impactful seniors, two who are playing in the Pac-12," Hooper said. "These five seniors were a huge part of our program and success over the past four years, so this year we are learning and growing every day with a new, inexperienced, large team."
Among the players who SRHS no longer has in its arsenal are Gala Trubint who is now the starting libero at the University of Southern California; and Olivia Johnson who is playing at Arizona State University. Both helped lead Scripps Ranch High to an impressive 25-13 record in 2021.
This year's captains Belle Hansen, Logan Mendez and Go-Soco are impressing the coaches every day with their ability in terms of finding ways to motivate their teammates and lead by example in practice with their effort.
The team's march to close out the 2022 season on the right-foot starts this Sept. 20 at home when it begins league play versus Point Loma High School. SRHS then travels to take on Patrick Henry High School on Sept. 22, with its final six games having the team face off twice with Cathedral Catholic High School, twice with La Jolla High School and rematches against Point Loma High and Patrick Henry High.