Vendor offers treats and clothing for pets
By Jill Alexander
Many Scripps Ranch Farmer's Market customers regularly stop by Timothy Mapes' booth on Thursdays to see the latest fashions for their fur babies. Mapes is the owner and founder of A*SLoBBRiN Pet Bakery & Gifts, maker of homemade, all-natural baked goods and jerky for pets. He also has personalized clothing and accessories for pets and dolls, also sold at his booth.
For 18 years, Mapes has been using only human-grade ingredients minus the salt and other chemicals typically found in commercial treats and dog foods. The result is popular, healthy dog snacks and treats.
With great love and care, Mapes bakes and creates healthy snacks at his East County residence, using the recipes he has perfected via researching and developing over the last 18 years.
"I didn't venture out until so many people started asking me to make it for them," said Mapes, the Scripps Ranch Farmer's Market assistant manager.
Years ago, he had a special needs dog that wasn't able to digest chemicals, so he needed to take all the preservatives out.
He's been selling ever since and said Scripps Farmer's Market is a terrific place to sell because, "Scripps Ranch Farmer's Market clients are the best … They have been coming to me for years and love putting up their pets on the table to try on the latest outfits. It's like playing dress-up; the pets and the owners love it. And of course, they love the treats."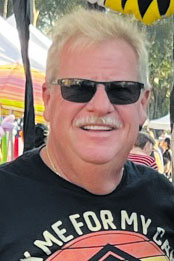 Formerly in the food services and beverage industry, Mapes now works at creating all the wonderful items that dogs and cats simply "eat up."
Prices range from $5 to $12 for pet snacks. Jerky varieties include chicken, beef jerky and more, along with baked goods.
Mapes always has the food dehydrators turned on at home where he is whipping up batches of delicious items that have helped turn this into a full-time job. He does dabble a bit in real estate but said for now the pets are his priority and he may have to get a bigger location at some point if sales continue to climb.
Oh, and if you're wondering about the business name, it's an acronym for his many beloved rescue pets, past and present. A*SLoBBRiN uses the rescue pets' first initials and is filled in with a few vowels to help with the pronunciation. He currently has one dog but remembers all fondly:
A is for Andy
S is for Sampson
L is for Lukus
B is for Bridget
B is for Buddy
R is for Ricky (a rabbit)
N is for Nikki
Visit Tim Mapes' booth at the Scripps Ranch Farmer's Market, held from 3:30 to 7:30 p.m. each Thursday at 10045 Carroll Canyon Road.