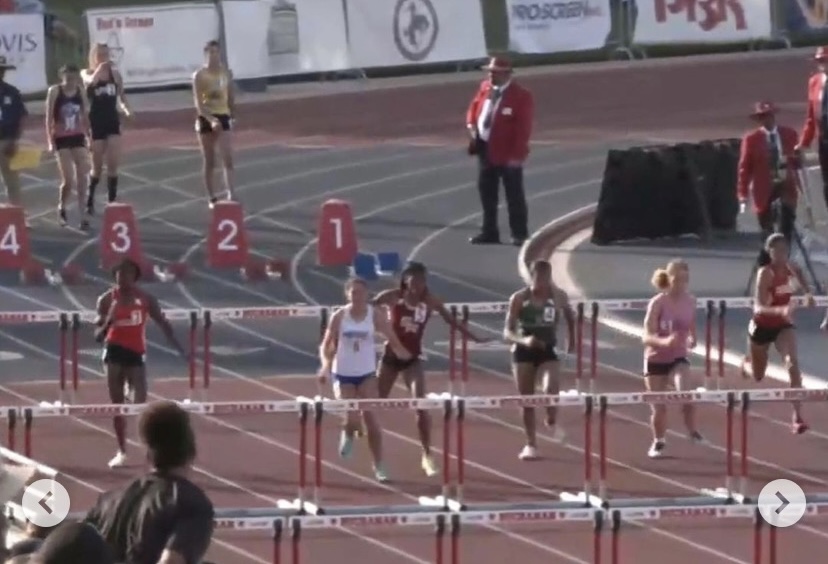 Very questionable call ruins Aaliyah's quest
Scripps Ranch High School (SRHS) track star and team captain Aaliyah McCormick's drive for a 2022 CIF State title in the 100-meter hurdles was destroyed when a track umpire disqualified her following contact with another hurdler in a qualifying race on May 27 at Veteran's Memorial Stadium in Clovis, Calif.
Shortly after the race started, contact occurred between the hurdler in lane 6 and McCormick in lane 5, which slowed McCormick although she was still able to finish in second place. While her time would have easily qualified her for the finals, her name was not among those announced to compete. It turns out that officials determined that McCormick caused the contact and disqualified her, causing her to miss out on completing her quest to win a State title. McCormick already owned the best time in the state for the 100-meter hurdles, but the officials' decision meant she could not compete to prove she is the best high school female hurdler in the state this season.
SRHS track coach Kadrina Coffee appealed the decision, but to no avail. The officials would not reverse the decision even though video of the race indicated that the runner in lane 6 – reportedly an athlete from Arroyo Grande – stepped out of her lane and interfered with McCormick.
A close look at the video clearly shows the runner in lane 6 stepping into lane 5 and touching McCormick. The contact was enough to throw McCormick off stride and cost valuable time, but McCormick stayed inside her lane.
Inconceivably, not only did the contestant in lane 6 not admit to her error, but CIF-State track officials reportedly allowed that very competitor to race in another heat.
Many SRHS parents, fans and teammates have shared video and images of the apparent foul on social media since the race. Some comments suggest such an egregious and totally awkward movement by a skilled track athlete at the highest level of varsity high school athletics in California state competition was deliberate.
While this unfortunate situation ruined McCormick's dreams for a 2002 state title in the 100-meter hurdles, a bright future awaits. She plans to pursue her education and further her track career at Eugene, Oregon, where she has committed to compete for the University of Oregon – a perennial track and field powerhouse.