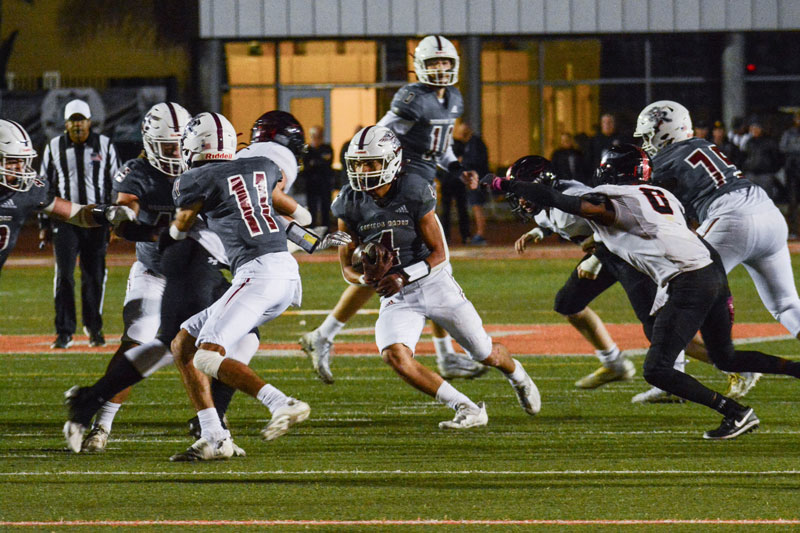 Victory brought a historic championship
The Scripps Ranch High School varsity football team captured the 2021 CIF-SDS Football Division 2 Championship on Friday night, Nov. 26, by shutting out La Jolla High School 42-0.
This complete and total victory is even more significant because it brings Scripps Ranch High School its first and only CIF varsity football championship in the school's history.
Scripps Ranch running back Jalen Shaw piled up 170 yards rushing and scored three touchdown runs. Shaw injured his ankle and only carried once in the second half, but his performance in one half did enough damage to give the Falcons a 28-0 lead after just two quarters. La Jolla never recovered.
Falcons quarterback Jax Leatherwood passed for 180 yards with two touchdown passes, completing 14 of 23 throws.
The Scripps Ranch defense was outstanding, of course, allowing La Jolla only 108 yards of total offense, completely shutting down the opposition.
Players on both the Falcons offense and defense demonstrated their outstanding abilities on this glorious evening, made all the more incredible when one recalls that these same two teams battled in an epic 52-51 contest which Scripps Ranch finally won on Aug. 27.
Scripps Ranch went on to win the next five games by wide margins before suffering a disappointing 35-38 loss to archrival Mira Mesa High in the annual "Battle of the 15" on Oct. 22. While that was a bitter setback, Scripps Ranch rebounded to win its last regular season game 58-12 against Canyon Hills High on Oct. 29.
The Mira Mesa game would be the Falcons' only loss of the regular season. Scripps Ranch went on to the 2021 CIF-SDS Football Division 2 Championships, defeating the Central Spartans 27-7 on Nov. 12 in the quarterfinal round, and beating Rancho Bernardo 28-7 on Nov. 19 in the semifinal round. By slicing through its bracket, Scripps Ranch earned a place in the Division 2 Championship game against La Jolla. The game was played on the neutral field on the campus of Escondido High School.
By soundly defeating the Vikings on this late November night of the CIF Division 2 Championships, the Falcons left no doubt which team is the best.