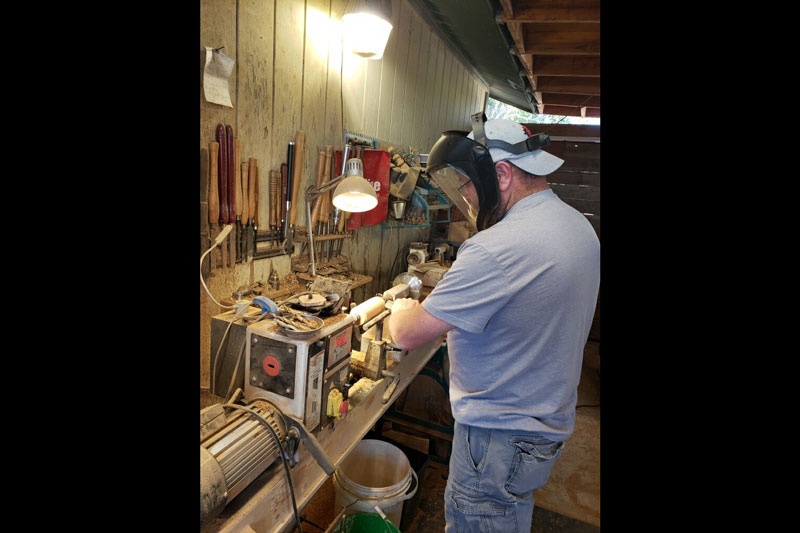 Visit a woodworking wizard
By Jill Alexander
Carl Anderson III is someone who can fix and create anything he sets his mind to.
For instance, the 47-year-old Campo resident is a wiz at whipping up items from wood that he sells at various farmer's markets including the Scripps Ranch Farmer's Market.
The San Diego native graduated from Coronado High school and earned a degree in economics from SDSU. While he dedicates more than 40 hours per week to his woodworking, he also has a full-time job at Dixieline Lumber's La Mesa store selling doors and windows.
But give him a piece of natural wood and he's ready to create a work of art in his 1,000-square-foot workshop located on his property. He is also building an extension to it by adding another 800 square feet for his woodworking.
"I am also a skilled jeweler and love to fabricate pieces in sterling silver. My jewelry workshop is roughly 120 square feet with the bulk in storage 'til I have more room. My plan/goal is to incorporate my silversmithing with my woodworking and blacksmithing," Anderson said.
For example, he hopes to add silver wire to wood, a faceted stone to a bowl with wrought iron handles, and hybrid wood and silver rings, Anderson said.
Anderson began selling his wood designs at markets and different local events in May 2021 and hasn't looked back.
"A co-worker of mine at Dixieline sold me his old Sears Craftsman lathe in early 2019. I played around with making a few things and instantly fell in love," he said. "A month later I invested in a much larger unit. I just knew it was my calling. I watched over 1,000 hours of YouTube videos on wood turning."
Anderson needed feedback and coaching, so he joined the San Diego Wood Turners Club as its exhibits at the San Diego County Fair were his favorites as a youngster.
Anderson enjoys creating "natural edge/live edge" bowls.
"The more nature I can leave in my creations, the better. My favorite thing to make is my manzanita root burl bowls. They are my signature piece," he said.
His father has a large ranch in Campo and digs up the old dead roots of burls for him to use for his projects.
"They are filled with dirt and rocks, and are very challenging to 'birth' a piece off the lathe," Anderson said. "Over 60 percent of the time the process fails, so when a piece makes it to completion, I am filled with pride. Every piece is unique and special."
His customers are varied, and most are people who enjoy handmade items, he said.
"I make a broad range of wood items that have functional and artistic appeal – from a bowl to eat snacks out of to one that is a catch-all for keys or to display one's crystal collection," Anderson said. "I sell a lot of pepper grinders. My cutting boards are popular since I try to source figured wood that pops."
Anderson likes selling at the Scripps Ranch Farmer's Market since "they have a nice, varied group of vendors that have broad appeal to the area."
Prices for his creations range from $5 for a key chain to the manzanita burl creations for $500, with everything in-between.
"The best part of woodworking is starting with a piece of 'firewood' and turning it into a piece of art," Anderson said. "I just love creating things – taking a raw material and turning it into a usable item."
Visit Carl Anderson's wood designs booth at the Scripps Ranch Farmer's Market & Family Festival, held from 3:30 to 7:30 p.m. each Thursday at 10045 Carroll Canyon Road.