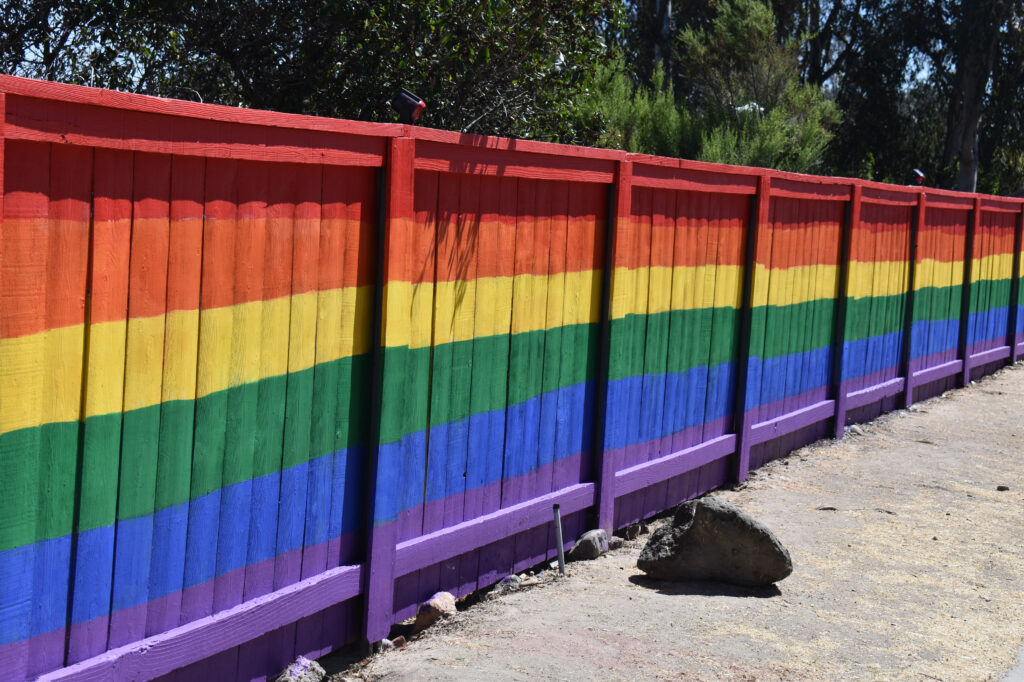 Volunteers repaint vandalized fence
By John Gregory
A colorful fence sitting on private property along Scripps Trail near the intersection with Semillon Boulevard was vandalized last week. The fence is not very long, and a portion was painted in bright rainbow colors. But a vandal or vandals defaced the fence with offensive language last week.
Part of the vandalism that appeared, according to a resident who saw the crime scene, was the acronym DADT, standing for the former U.S. military policy of "don't ask, don't tell" – regarding gender preference among military personnel. That policy was revoked by The Don't Ask, Don't Tell Repeal Act of 2010.
One witness stated the entire length of the fence was splattered with paint one day after she spotted the first results of vandalism. Additionally, security cameras that were placed along the fence had been disabled and painted over, she said.
Flags atop the fence have been stolen on at least three different occasions.
This comes in the midst of June, which is national Pride Month in the United States, supporting the rights of the LGBTQ+ community nationwide. As most citizens know, the rainbow has long been the symbol of the LGBTQ+ rights movement.
The vandalism, "plainly sent a message contrary to that intended by the Pride colors (love, inclusion, support for our LGBTQ neighbors/friends)," stated a Scripps Ranch resident of 26-years who witnessed the results of the vandalism.
"I'm shocked about the hatred and intolerance going on in Scripps Ranch," she added.
Brittany Fuller, who grew up in Scripps Ranch, lives on the property. She wrote that an artist from Los Angeles had donated her time to travel to Scripps Ranch just to paint the fence. 
Fuller started a GoFundMe page to provide the artist with reimbursement for her supplies as well as gas money and a few meals: gofundme.com/f/scrippsranchpridecouncil.
Fuller has contacted the San Diego Police Department regarding the vandalism.
The neighborhood surrounding Fuller's home is very nice, serene, with birds chirping and little traffic. On the afternoon of June 26, children could be heard playing cheerfully. So, it is shocking to hear that such destructive and hateful behavior is taking place in this area. Perhaps the culprits are not from around Scripps Ranch, but it's very possible they could be neighbors living nearby.
Sadly, Fuller included a telling statement in her GoFundMe description: "Only after I turned 30 years old did I feel safe enough to be myself here in this community."
One local woman said several supporters came by the scene as a man was helping to repair the fence last week, but she also witnessed others coming by, shouting "disgusting" slurs.
"He and I personally encountered a person who walked up to express his dislike for the fence," she stated.
"I am sick and disgusted by these intolerant, destructive people in our neighborhood," she wrote in an email. "If they are highschoolers or kids, their parents should be ashamed of themselves and teach them better. But it is apparently not just young, ignorant kids. Hoping the police find these people and they feel some personal consequences for their hateful actions."