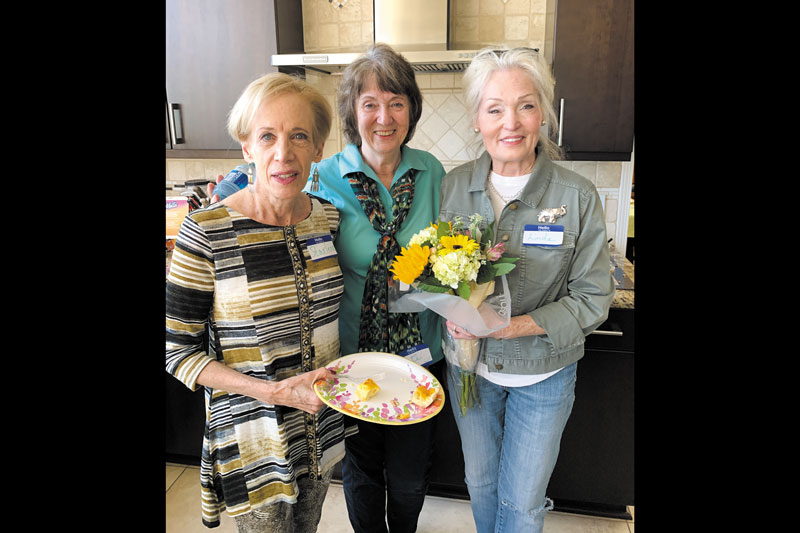 Welcome Club's social calendar is blooming!
By Denise Stewart
A recent Welcome Club entertainment highlight was a trip to Coronado to view the musical "Respect" performed by the all-female cast at the Lamb's Theater.
"That afternoon we were dancing in our seats to the tunes of the sixties and seventies," according to the event organizer Pam Savelsberg. "It was fun for all of us to hear those favorite tunes done with such energy and style. They sure brought back memories."
Welcome Club's April morning Coffee was hosted by Kate Schaap and her team. The tasty brunch menu and warm interactions among friends always draw a crowd to these morning events which occur monthly now that we can gather again.
May had its Coffee event at Sue Cable's home and the spring weather allowed for outdoor enjoyment of friends.
The June event is coming up toward the end of the month at a poolside setting.
Mays' calendar also included an outing to the movie "Book Club" and lunch after.
Scripps Ranch Theatre's opening night performance of "Lost in Yonkers" attracted a group from Welcome Club. It is customary for the club to hold a pre-play potluck at a member's home. This month the potluck was at Bev Macho's. After dinner, the group enjoyed the show and the laughter.
Welcome Club has monthly meetings on the second Monday of each month at the Community Center at 7 in the evening. May's meeting was special in that it celebrated new club members and installed the club's slate of officers for the coming months.
In June, local resident and internationally known Irish singer Máirtín de Cógáin, originally from Cork, will be entertaining at the club meeting. Máirtín comes from a long line of storytellers and singers. You may have spotted him in the Palm D'Or winning movie "The Wind That Shakes the Barley." You may have seen him in San Diego performing with his Irish band or heard him as the voice for Lucky of Lucky Charms. Máirtín has played all the major Irish festivals in America and toured the world with his music and stories.
"We are so excited to have him," Program Chair Cecilia Waters said. "He will come to play, sing and story-
tell for us on June 12. Make sure you come early to get your seat."
The Welcome Club has been around Scripps Ranch gathering friends for more than 40 years. Some of its festivities have become traditions and a favorite among them is the annual July Salad Supper. The theme this year will be Aloha!, according to coordinator JoAnn Farmen.
Along with all these entertaining events, Welcome Club has book clubs, trail walks, Bunco games, and crafting, all on its monthly calendar. Both daytime and evening activities are available to women who work or those with freer time. You are welcome to check the website to learn more: scrippsranchwelcomeclub.com.