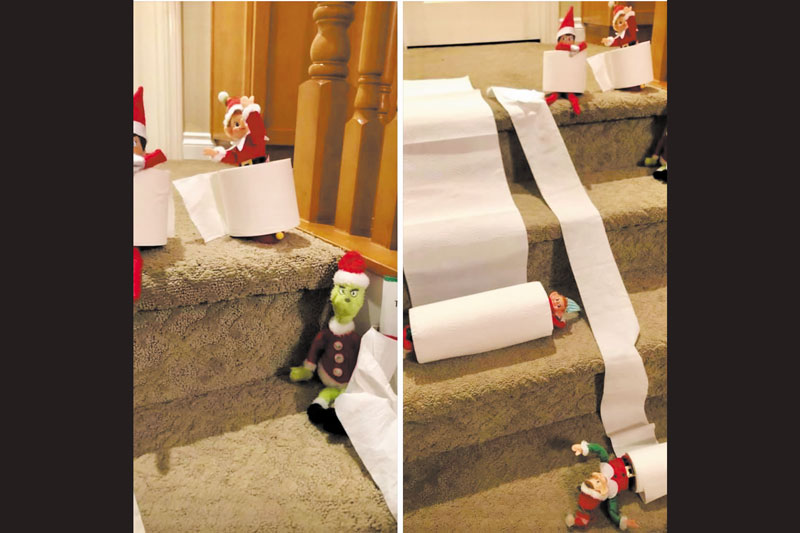 Where's your elf, Scripps Ranch? 
By Ashley Shah
As the holiday season approaches, elves start appearing around the house, which is a characteristic of the common holiday tradition "Elf on the Shelf." 
Local resident Christina Hersch has found a way to spread the tradition with the Scripps Ranch community through a Facebook page named "Where's your elf, Scripps Ranch." 
Hersch explained the premise of the tradition. 
"Little elves start showing up around the holiday season that are sent from Santa Claus to monitor the childrens' behavior. The elves go back to the North Pole to let Santa know about the behavior of the kids at night, and when they come back in the morning, they are in different places in the house," Hersch said. "It is just a fun holiday activity, and it is a nice way for the kids to have an extra friend over the holiday season."
In December of 2020, she started the Facebook page that allowed residents to share the creative places elves were being discovered.
"The page was started during COVID, and I think the whole year people needed a way to connect with people, but especially during the holidays when people want to be around their family, and their loved ones," Hersch said. "The page is a nice way for people to connect over something that isn't the news, or the hustle and bustle of the workday." 
There are around 160 members on the page so far. 
"I have seen some really creative ways that people have seen their elves around the house. One post had the elves and Barbie Dolls set up as if they were having a disco party; it was almost like a 'Toy Story' where the kids woke up to find their dolls like that. I have seen whole rooms decorated around the elves," Hersch said.
While the page is open all year, Hersch has seen an increase in the number of members joining the page around the holiday season.
"I think as the holidays approach, people try to find things to connect over, like Elf on the Shelf. So, I see a peak in people joining the page. There are always about 30 to 40 new members joining," she said. 
Hersch hopes to keep the page going.
"Right now, where there is a lot of division. It is just really nice to see people come together. This is just a really nice way to lift everyone's spirits," she said. 
In her own home, Hersch participates in the Elf on the Shelf tradition.
"I have five kids, so I have them look for the four elves in the morning. Sometimes, the elves have a gift, a note or something that the kids need to do. It is just a really fun thing for the kids to do when they get up," she said.
To join the page, visit: facebook.com/groups/434022414206210.