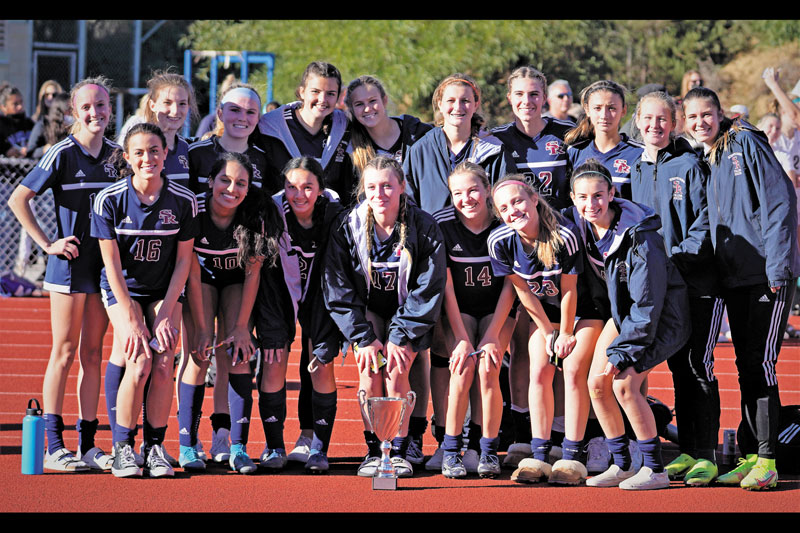 Womens soccer team looks to make a run
By Hector Trujillo
In what is turning out to be a hotly contested season, the Scripps Ranch High School varsity womens soccer team seems poised to become a contender despite dealing with setbacks as the regular season enters its final phase.
"I'm looking for a good run in Eastern League if we get all our players back soon. We have a good, young team," said head coach Larry Pernicano. "Dealing with COVID and trying to get enough girls to the games has been very difficult."
Despite being so shorthanded, the team has fought quite valiantly and accrued some noteworthy wins this season which include a 5-1 victory in the opener against Grossmont High School. After struggling to find the back of the net the following couple of games against Steele Canyon and Academy of Our Lady of Peace, the Falcons earned a 1-1 road draw against Mt. Carmel High School followed up with back to back shutout wins against Bishop's and Valhalla thanks to dominating defensive performances in both games.
"A couple of the games we didn't have either of our goalies, plus missing six other girls. It's been a stressful few weeks," Pernicano said. "We lost eight seniors from last year, so it's a rebuilding year."
Perhaps the team's most dramatic win of the season came on Jan. 11 at home against Point Loma High School when the Scripps Ranch team was able to pull out a hard fought 1-0 win, which came just a few days after earning a 2-2 draw against Rancho Bernardo High School.
Among the standout players who have helped keep this team in contention are senior captains Brooke Stadtherr and Keya Menezes.
"The team is working very hard," Pernicano said. "In the next few weeks I'm looking for positive results."
The Falcons have five remaining regular season games left with two on the road and three at home starting with the next match against Bishop's High School on Jan. 27 and a rematch at San Diego High School on Feb. 1 when Scripps Ranch will look to avenge a 1-0 loss it suffered in the previous matchup. The team closes the regular season at home on Feb. 10 against Mira Mesa High School.