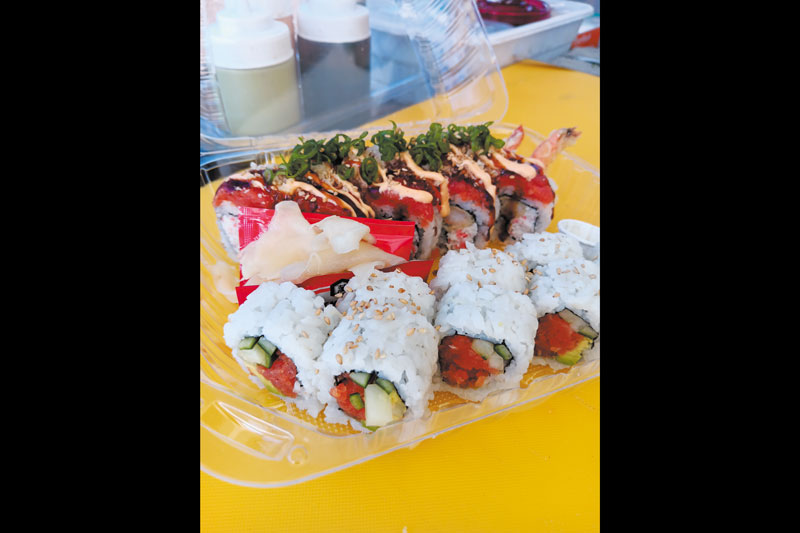 Yakitori Sawa creates fresh sushi to order
By Jill Alexander
Working alongside your spouse and/or significant other running a business isn't for everyone, but it suits Erika and Makoto Ezawa just fine.
The duo, who own and run Yakitori Sawa, can be found at the Scripps Ranch Farmer's Market on Thursdays prepping and selling their special sushi creations for hungry visitors.
No stranger to fish fare, Makoto is a master sushi chef who has been making sushi at the Scripps Ranch Farmer's Market since May 2022.
"My husband's family used to run a sushi restaurant in Japan," said Erika, who is expecting the couple's first child. "The sushi roll was developed in the U.S. so, although my husband has 25 plus years' experience as a chef, he still has much to learn."
They once sold chicken skewers at the market but have since stopped.
"We used to sell Yakitori skewers, but we switched it to sushi because of the demand of course, but also, we needed to devote a lot of time for the prep. There are few Yakitori spots in San Diego; however, they have so many prep staffs and it was hard for us to operate on our own, especially when we had a part-time job as well," she said.
California and salmon rolls are the most popular. They first prep at their friend's sushi restaurant but, "we make sushi to order at the market and instead of picking up pre-made packed sushi at grocery stores, we make our sushi on site," Erika said.
"We've seen some vendors selling handrolls or poke at some other markets, and those are an easy-to-grab type of food where you can walk around the market with it. Fortunately, the markets we go to, including Scripps Ranch, have plenty of seats to eat on site, so we get to serve rolls like eating in a restaurant," she said.
Because of the quality of Makoto's sushi, word of mouth is spreading and Yakitori Sushi is attracting all sorts of shoppers from young to old at the Scripps Ranch Farmer's Market.
"Scripps Ranch Farmer's Market is a nice, family-oriented market. We get to see moms feeding toddlers sushi. It's nice to know sushi and different types of ethnic foods are commonly accepted by locals," Erika said.
Prices range from $6 to $14.
Visit Erika and Makoto Ezawa at the Yakitori Sushi booth at the Scripps Ranch Farmer's Market, held from 3:30 to 7:30 p.m. each Thursday at 10045 Carroll Canyon Road.