Yanni's holds big fundraiser April 17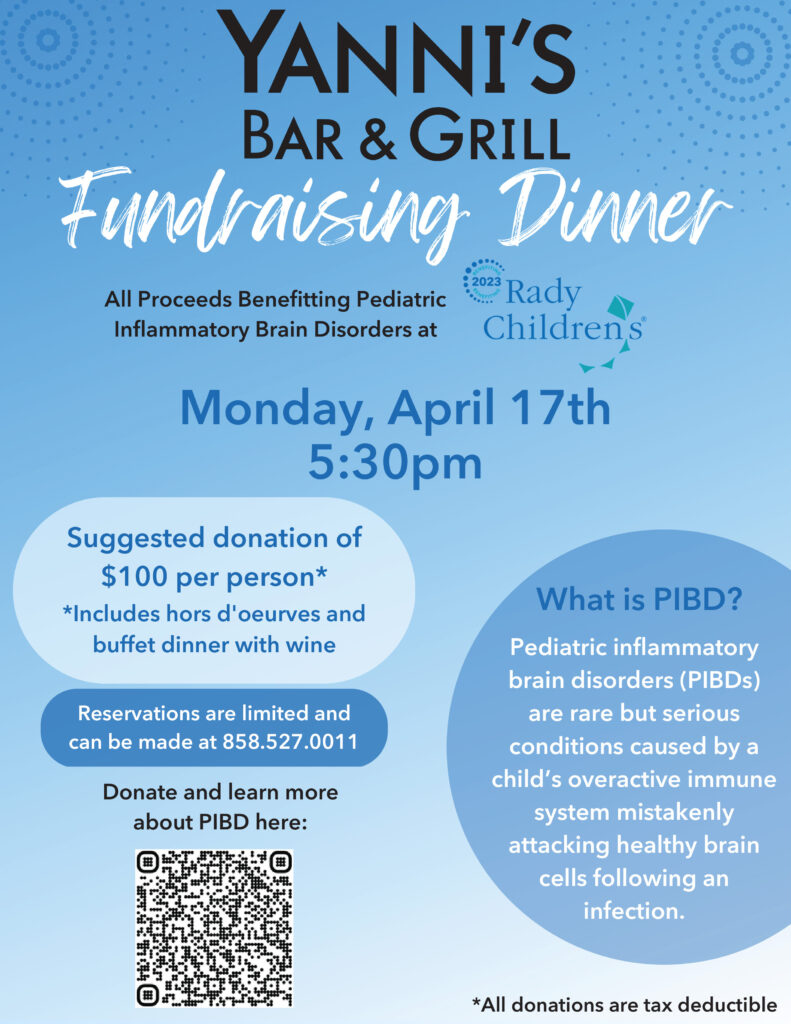 Yanni's Bar & Grill, 12015 Scripps Highlands Drive in Scripps Ranch, will host its first annual Pediatric Inflammatory Brain Disorders (PIBD) Fundraiser dinner on Monday, April 17 at 5:30 p.m.
This will be a will be a fun evening with appetizers, wine and a buffet dinner. There will be some auction items and a few giveaways.
PIBD can occur after an infection, and many times it is misdiagnosed as a psychiatric condition instead of a brain inflammation.The owners of Yanni's are incredibly passionate about PIBD because 11 years ago it touched their family and they had difficulty finding a specialist that could identify, diagnose and treat this debilitating condition. Rady Children's has recognized the need to begin a program that will provide care for local families with this very complex brain illness. It is their hope that the money raised through this fundraiser will assist in hiring a nurse/care coordinator.
Reservations can be made by calling Yanni's Bar & Grill, (858) 527-0011. Yanni's suggest a $100 per person donation, which can be made on their fundraising page: https://secure.radyfoundation.org/site/TR/MiracleMakers/MiracleMakers-DIY?px=1134583&pg=personal&fr_id=1370
Checks will also be accepted the night of the event.
Those who cannot attend the April 17 event may add to the fundraising effort by donating to the PIBD program. Donations will help the hospital take the first steps in helping local families find the care that they need.
Contact Yanni's Bar & Grill for reservations or more information: (858) 527-0011.