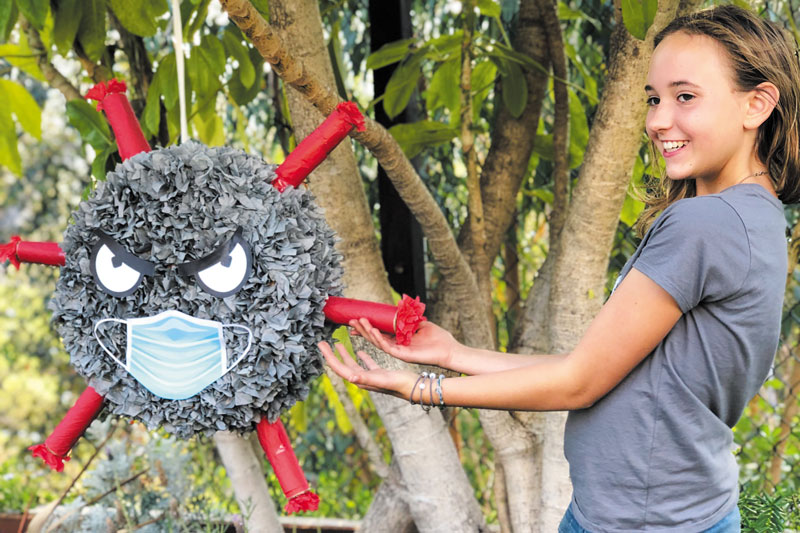 Custom piñatas: Take a swing at COVID-19
By John Gregory
Now that COVID-19 vaccines are widely available, the infection rate is slowing and the anticipation of gatherings becomes more common – some might want to consider ordering a COVID-19 piñata to smash and bash as a way to help celebrate.
A bright, enthusiastic ray of sunshine in Scripps Ranch named Hazel Sharifi, 12, just happens to be taking orders for such creations.
This sixth-grader has also designed piñatas in the shapes of cats, Legos, soccer balls, tacos, surf boards, pizza slices, hearts, dinosaurs and cupcakes. She once made a dump truck piñata for her nephew and a New England Patriots piñata for her friend's father.
"Once I did this huge pumpkin one for Halloween and we smashed it," Hazel said. "It was so fun!"
She started creating piñatas in March 2020 when the coronavirus lockdown began.
"Last year it was quarantine and I was kind of bored and my sister's birthday was coming up and all our plans were canceled," Hazel explained.
Her little sister likes cats, so Hazel looked online to find a cat piñata for her, but wasn't satisfied with the quality of what she discovered.
"So, I decided I would try making my own, and it turned out really cool," Hazel said.
Now, she builds a wide variety of colorful, high-quality, custom-made piñatas and sells them to customers. Her piñatas are generally constructed with cardboard, tissue paper and glue. Each custom piñata takes about a week to complete. She can make any size and can adjust the durability based on the customer's needs. She once made an extra strong piñata for a party for 10-year-old boys. Average cost is $35. Hazel donates 10 percent of her profits to animal shelters.
Hazel's mother, Sarah Sharifi, said Hazel has always had an entrepreneurial side to her – and she has always been very artistic as well.
"These two things came together and now she's developing her business skills," Sarah said.
Hazel agrees that she has always been artistic.
"It's kind of been my thing since I was really little," she said.
Those wishing to order a custom piñata may email Hazel Sharifi: hgspartypinatas@gmail.com.