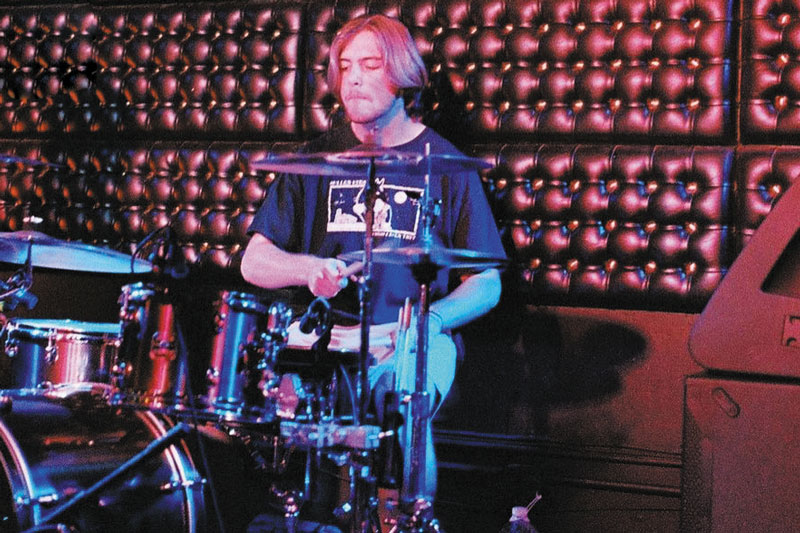 Drummer Ryan Hunter: he's got the beat
By Kaila Mellos
Scripps Ranch musician Ryan Hunter had an opportunity of a lifetime to kickstart his dream. The Grossmont Community College student is working toward making that dream a full-time opportunity.
"I've basically been hitting the drums my whole life," Hunter said. "I got my first toy drum kit when I was probably about three and I just went from there. I got my first real drum kit after playing on a family-friend's when I was in fourth grade."
Hunter started playing jazz, funk, Latin and blues music with heavy metal influences.
"I played for about two years, just getting down stuff by myself," Hunter said. "Then I got my teacher, and he taught me for another year or two. My biggest inspiration is Danny Carey from Tool, specifically. But
even though I play a lot of metal, I also play loads of pop. I have to balance it out some way."
In November, Hunter had the chance to put his skills to the test for his very first full-set live performance with  singer-songwriter Kendra Checketts. Hunter has been working as the official drummer for Checketts since April and has loved the opportunity.
"It was exhilarating, and it was unbelievably fun. Overall, the energy on stage was really fun," Hunter said.
"The crowd was definitely feeding it back to us on stage almost like it was a symbiotic relationship between the music we're playing on stage and the crowd – and it's just a great feeling."
Hunter not only works with Checketts in her band, but also works on the side with a few other musical talents to further practice his skills. He has been working on an unreleased project that is expected to come out in the spring of 2023 with one of these other talents – which he must not reveal at this point, he said.
"We're completely unreleased, but we've been writing for about a year, and we'll be dropping our first album next year in the spring," Hunter said. "It'll be a nice 12-song album we've been together – writing and recording two to three days a week."
Another musical talent Hunter works with is Tea Janee, a new Spotify artist with almost 68,000 monthly listeners. He has been a drummer on a few of her songs. 
"She just released her first song that I'm on and it's her first ever single. It was released two months ago, and it's called 'You Like to Play with Fire,'" Hunter said. "It already has almost 165,000 streams on Spotify."
Janee still has a few more songs Hunter participated in that have yet to be released.
"I will be playing shows with her and doing any more recording she needs," Hunter said. "Along with 'You Like to Play with Fire,' I did a couple other songs with her that she's not releasing yet and it's just a bunch of different things going on for me that I am really excited for."
Besides his musical career, Hunter hopes to graduate from Grossmont Community College with a major in technical theatre with a focus on set construction and design. He works at The Old Globe in Balboa Park as a prop artisan, helping him embrace that side of his dreams.
To follow Hunter's journey, follow along on Instagram @ryan.hunter.drums.