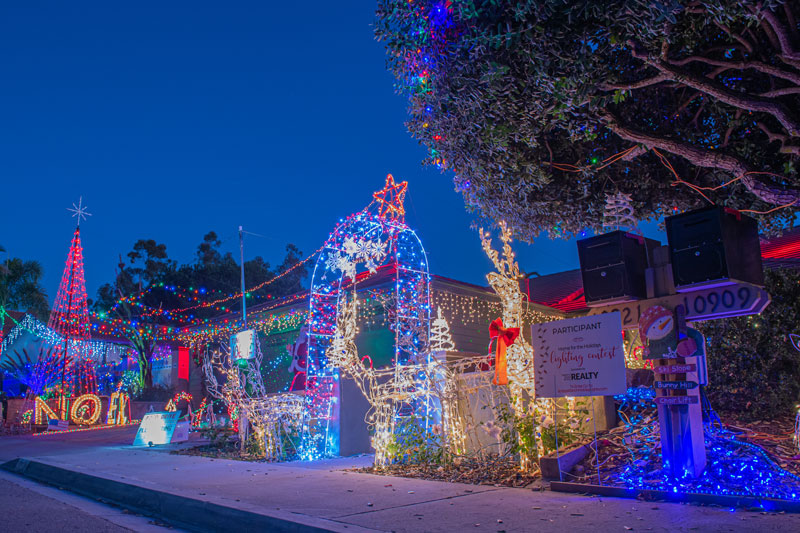 Lighting contest winners announced
The big winner of the Scripps Ranch News-24/7 Realty Home for the Holidays Lighting Contest was submitted by Joe Billitti. The home lighting display, located at 10921 Elderwood Lane, earned the "Norman Rockwell Award," winning a $250 gift card to Home Depot.
The Noman Rockwell Award is given to the home with "truly elegant displays that accentuate and coordinate with the beauty and elegance of the home."
This is the judges' statement for the Billitti home lighting display: "What is more elegant than syncing a light show programmed to their own radio channel and amazing, beautiful display! This is an ongoing historic SR delight!"
The theme for this year's contest was "Home for the Holidays." Anyone with a home in Scripps Ranch who decorated the outside of their home with holiday lights that are visible to the public from the street was eligible to enter the contest. There was no charge to enter. Judging and prizes were provided by 24/7 Realty, the sponsor of the entire event. Signs for the entrants were created and placed by 24/7 Realty.
By all accounts, the public has enjoyed this new, popular Scripps Ranch tradition, and the festive holiday light displays have lifted spirits. Plan a family holiday lights viewing tour by using this map: Home for the Holidays Lighting Contest Map.
The Clark Griswold Award, presented for "The most over the top lights with lighting displays and motion," was presented to entrant Jeremy Sturch. The Sturch home is at 9940 Dichondra Court. The prize for the Clark Griswold Award was a $100 gift card to Amazon.
The Byrnes home was awarded "The Nostalgia Award – Reminds me of my childhood." The display, submitted by Kim Byrnes, is at 9710 Caminito Joven, and features good old Charlie Brown and characters from the Peanuts cartoon. Prize for the Nostalgia Award was a $50 gift card to Public House.
The "Misfit Toy Award" for best use of inflatables went to the Granum home,11626 Timberlake Drive, submitted by Mathew K. Granum. The prize was a $25 gift card to the French Oven Bakery.
The "Grandma Got Run Over Award" for the funniest display was awarded to the Schnee home, 10810 Ashlar Place, entered by Gerard Schnee. This display features several fun inflatables including huge penguins and dinosaurs. The prize was a $25 gift card to Nutmeg Café.
"The Sparkle Award" for the twinkliest lights went to the Barger home, 11358 Merritage Court, submitted by Jered Barger. The prize was a $25 gift card to Board & Brew.
Judges' comments: "The whole street twinkles – but this one is the winner."
The 2020 Scripps Ranch News-24/7 Realty Home for the Holidays Lighting Contest was an exclusive production of Scripps Ranch News and sponsored wholly by 24/7 Realty.
Photos by Justin Fine. Visit justinfine.com.