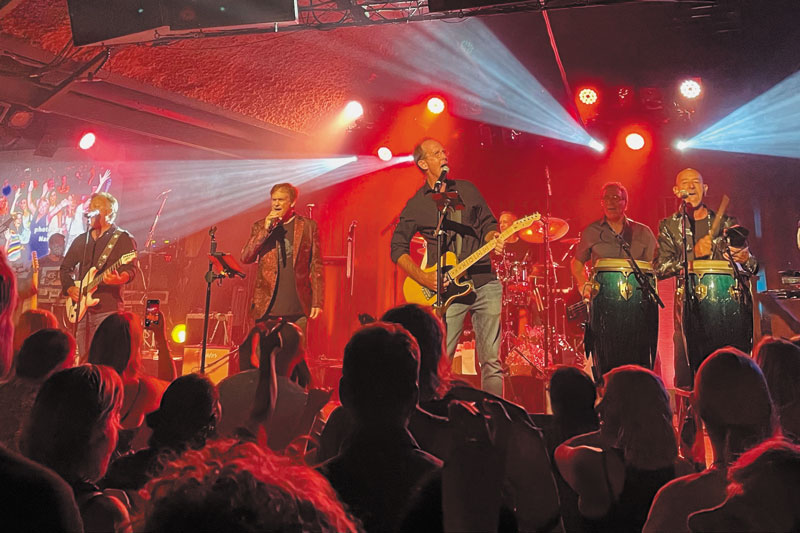 Novocaine: the opposite of numbing the senses
By Terry L Wilson
The opening act for the July Scripps Ranch Symphony in the Park concert is Novocaine, the band consisting of all dentists, including two from Scripps Ranch: Robert Bey and Russell McCalley.
"We are all USC dentists and friends," Bey said. "We all had varying degrees of musical experience. Two of us are Scripps Ranch residents, myself and guitarist Russ McCalley. He and I had the most experience in the group. In fact, we had a band while in dental school in Los Angeles. We played a lot of frat parties."
The parties Bey referred to were less like a kegger in some guy's garage and more like a big-time blowout that would appear in a Hollywood movie. It was go big or go home, and they went big – real big.
"Fraternities at USC were some pretty good gigs," Bey said. "They would rent out the Queen Mary or the Westin Bonaventure hotel. So, we're playing all these really cool fraternity parties and clubs in LA with an all-dental school rock band."
The Novocaines had a reputation for turning any event into an all-out bash. But even The Beatles had to part ways at some point in their career, and so it was with the rockin' dentists from USC.
"It was great fun, but after dental school everybody in the band scattered to different parts of the state or country," Bey said. "But by chance, Russ and I ended up in Scripps Ranch. I'm from Chicago and he was from Arizona, and we ended up practicing in Clairemont, and having our homes and raising our families in Scripps Ranch."
Nearly three decades passed since Bey and his pals had rocked the house, but the urge to hit the stage one more time was about to surface. But where were Bey and McCalley going to find musicians to replace the other original band members?
"When Russ and I decided to play again, we turned to some friends that we'd gone on surf trips and ski trips with. They played a little and they were also dentists. The only problem – they didn't have any stage experience," Bey said.
Bey and McCalley figured, "if the Stones can, do it so can we." So, the two pros took the fledgling rockers under their wings and taught them the ropes of playing to huge crowds, and before you can say, "Johnny B Good," the new Novocaine group was ready to take center stage.
"We nurtured this band that has limited experience and have turned it into a really fun hobby," Bey said. "The bottom line is, we're friends first, so it's easy to be in a band with your friends. We're dentists second, which means we have the same kind of time constraints on our schedule. It's never going to be our day job. The whole point for us is to play music and have fun in the process."
The updated group has been playing gigs for more than 12 years, and as anyone can see from the videos on their website, they can still rock the house. The Novocaine band members are Robert Bey, drums; Russell McCalley, guitar; Randy Garland, lead singer; Curt McRae, rhythm guitar; Dan Roberts, bass; and Craig Small, conga.
Novocaine will open for Rebecca Jade at the Scripps Ranch Symphony in The Park concert on July 10 in Hoyt Park.
Visit: Novocainerocks.com.