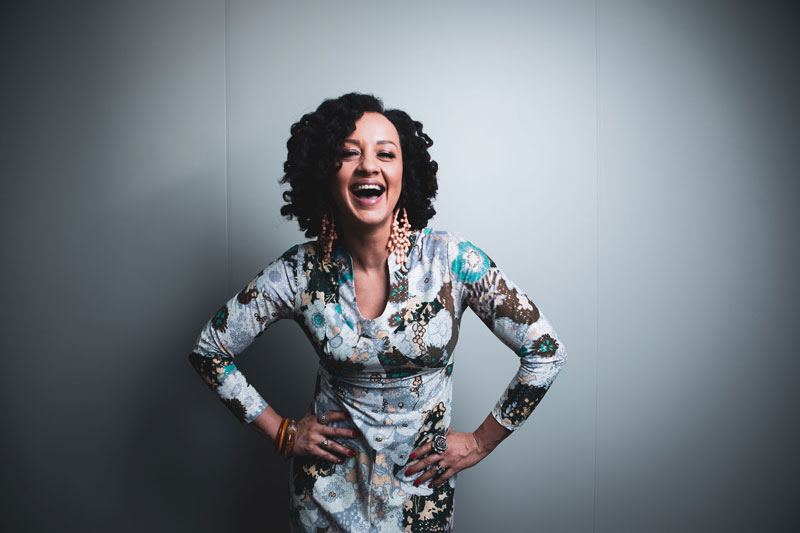 Rebecca Jade and the Soultones
By Terry L. Wilson
Rebecca Jade and the Soultones, will take center stage in Hoyt Park on July 10 for another amazing Symphony In The Park live concert.
Jade was once a Scripps Ranch High School basketball star. Her jump shots filled the stands with fans of all ages. Now, the former power forward-turned singing sensation fills concert halls with her unique musical styling: smooth jazz.
"I love live instrumentation," Jade said, "I'm old school. I love real music when I'm recording. Some people like to create tracks, or music in a box, and that's okay. But my fancy is real horns in the studio, live strings. All the musicians are live on my new album,"
A woman of many talents, Jade is also a bit of a "gear-head" with a passion for classic cars and motorcycles.
"My dream car was Eleanor, a '67 Mustang GT fastback," Jade said. "My mom's neighbor was selling a '65, but it was a straight six, and I wanted a V-6; but didn't matter because back then I didn't have any money anyway. But now, in hindsight, I wish I'd gotten that car."
Jade may not have latched onto that vintage Mustang back then, but her career has been in overdrive ever since, including touring with Sheila Easton, and singing background vocals for Sir Elton John at the 2020 Academy Awards. Jade was also featured on two songs from DW3's album that topped the UK Soul Charts, and she has opened for Grammy-nominated artist Musiq Soulchild twice, to name but a few of her accolades.
"Careers always take longer than you expect, but mine is moving in a good direction," Jade said. "I'm working on a new album that will be coming out this month. It's R&B soul. The album will be called, 'A Shade Of Jade.'"
Jade isn't just a vocal force to be reckoned with, behind the scenes she is also a brilliant songwriter and music producer with five albums on the market.
"I'm really excited about 'A Shade Of Jade.' This is the first album that I've been involved in from start to finish," Jade said. "Technically, I'm co-producing the record with a musician friend of mine, and I'm very excited and grateful to be so involved in the creative process."
Anyone who has ever attempted to write a song, let alone a hit, can attest to the degree of difficulty involved. It begins with hearing a song in your head to actually putting it to a chart. With her new album, Jade has not only accomplished that task, but in the process has elevated her skill level in all facets of sculpting a hit album.
"I find all aspects of creating a song intriguing," Jade said. "Often a songwriter may start with nothing. That nothing turns into an idea, that idea grows and builds, and before you know it, you have a full song – that is conceptually. Then you put it to sheet music. Next is instrumentation, and finally you get into the studio, and then, it's a real thing, it's tangible. And that's the part I think is most amazing, something that starts from inside your brain, a small idea, the hook, a line in the chorus, then you have a song, and for me, there is nothing like it, and you go, 'Hey. I made this!' It's a magical feeling and I'm so grateful to be a part of the process."
See Rebecca Jade and the Soultones live at Hoyt Park on July 10. Opening band Novocaine at 5:30 p.m.