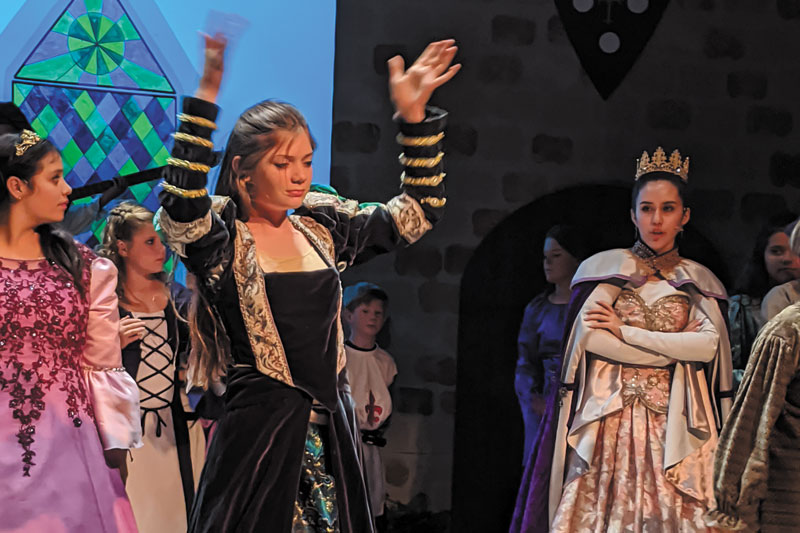 Actors nominated for awards
By Nick Ng
Six Scripps Ranch youth artists from Scripps Theatre Arts were recently nominated for the National Youth Arts Awards competition.
This is a huge deal for Scripps Theatre Arts founder Alicia Gonzalez and the actors, especially since they have only been putting on productions for about a year.
"We all went crazy over it," Gonzalez said.
As soon as the announcements were made online, she received a text about it and the news "spread like wildfire," she said.
Rayne Gonzalez, 15, was nominated for Outstanding Lead Performance in "Once Upon a Mattress" as Princess Winnifred. Nominations for Outstanding Supporting Performance in "Once Upon a Mattress" and "The Lion King Jr." went to Jacen Gonzalez, 11, and Lily Haigis, 14, respectively.
Nominations for Outstanding Featured Performance went to Jada Kim, 13, and Sydney Taber, 14, for "Once Upon a Mattress," and Hana Wong, 15, for "The Lion King Jr."
This is their first-time nomination, which means that it is something they can put on their resume and increases their chances of getting a scholarship to go to college.
"This is an acknowledgement of us being a truly recognized [theater] program," Gonzalez said. "This is not something that is set up in someone's backyard. It has all the elements that you'd expect from a Broadway show but on a much smaller scale, and it's volunteer-run."
Scripps Theatre Arts had some temporary setbacks due to the COVID-19 pandemic. The company was in the middle of rehearsing "Beauty and the Beast," which was going to be performed at the Poway Center for the Arts last year when the COVID-19 pandemic hit California in March 2020. Gonzalez said that the rehearsal is still on hold, and she hopes she and her students will resume later this year.
"Meanwhile, we are on our third virtual production, 'The Jungle Book,' and that has been very successful. We use the Zoom platform for the final performance, which is live, not recorded. People can buy virtual tickets to attend," Gonzalez said.
For the next six months, Gonzalez plans to continue to do virtual shows and theater classes with the students online until she gets notified about how to re-open live rehearsals and performances. Meanwhile, she is looking for a space for Scripps Theatre Arts.
"We rent from the [Scripps Ranch Recreation Center] and there are not a lot of openings for what we do," Gonzalez explained. "We rehearse 12 hours a week plus some classes, and they cannot accommodate that. Our biggest goal in 2021 is to rent our own space or a shared space with another entity."
Gonzalez started Scripps Theatre Arts in 2018 as a non-profit to help young artists in Scripps Ranch to express themselves. She got involved with theater about 11 years ago and joined a theater board in Escondido and Balboa Park in 2015 where she learned the skills needed to run a theater company – including logistics and budgeting. Gonzalez started Scripps Theatre Arts when enough people nudged her to start a local theater company.
"Hardly anyone in San Diego had heard of us until we got nominated. We were up against some well-established groups that have a large staff, lots of funding and long histories," Gonzalez said. "I'm so proud of these kids!"
For more information about upcoming events, email Alicia Gonzalez at scrippstheatrearts@gmail.com and visit the website: www.scrippstheatrearts.com.