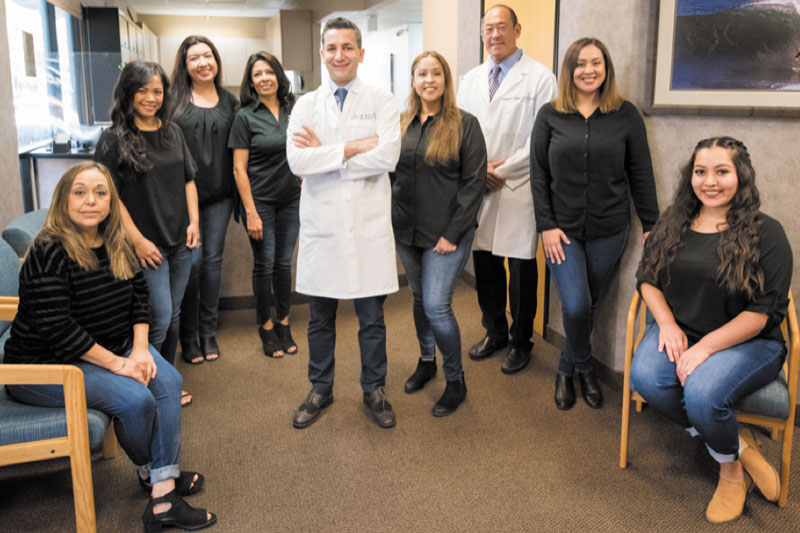 New owner runs West Coast Oral Surgery
By Nick Ng
There's a new doctor running the show at West Coast Oral Surgery in Scripps Ranch. Dr. Mehdi B. Matin, who has been with the team since 2019, now oversees the operations and staff of the 30-plus-year-old practice. 
After working at West Coast for more than a year, Matin was attracted to the practice's state-of-the-art technology and techniques as well as the local community.
"I felt that West Coast Oral Surgery is one of those practices [where] patient care, satisfaction and treatment quality comes first," he said.
Matin earned his Doctor of Dental Surgery degree with honors from the University of California, San Francisco. He later specialized in oral, jaw and facial surgery at the University of Washington.
Matin also taught and mentored dental students and surgical residents at Harborview Medical Center and the University of Washington School of Dentistry in the 2010s.
He likes the blend of the art and science of dentistry, medicine and surgery, which motivated him to take an extra year of anesthesia fellowship and surgical internship.
"That was such a valuable training which gave me more in-depth knowledge and experience in the field of anesthesia that allows me to provide all levels of anesthesia to my patients safely," he said.
The previous owner, Dr. Andrew Chang, sold West Coast to Matin.
"Not only is he a phenomenal surgeon and is from the best dental institution in the country, [he's] always well-liked by his team members and patients," Chang said, referring to Matin. "Having observed his surgical skills, he would be the perfect candidate to take over West Coast Oral Surgery."
The COVID-19 pandemic did not slow down business at West Coast, but the staff had faced a shortage of personal protective equipment (PPE) and had to adapt to changing guidelines.
"Thankfully, we were able to provide emergency treatments to our community safely by incorporating necessary precautions, getting PPEs and other required supplies from local and state agencies, and helping our patients and referring doctors," Matin said.
Originally called San Diego Center for Oral and Facial Surgery, Chang had given the practice the current brand name about 10 years ago, but the practice has been there since the building was constructed in the 1970s.
"It was the birthplace of some of the best oral surgeons who are now practicing throughout San Diego," Chang said. "A lot of them got their start at that practice.
Chang became a full partner at the practice in 1998, took over all business aspects and eventually changed the name to West Coast Oral Surgery.
He retired, but he has  been mentoring other oral surgeons and assisting dentists in Scripps Ranch and Mira Mesa during the COVID-19 pandemic, such as setting up protective Plexiglass at their front desks.
Matin would like to see West Coast Oral Surgery expand its scope of practice while maintaining the high standards of care.
"We spend a lot of time training our staff and bringing new technology to our practice to make surgical experience as comfortable as possible," he said. "I am thrilled to be part of this amazing community and serve our patients."