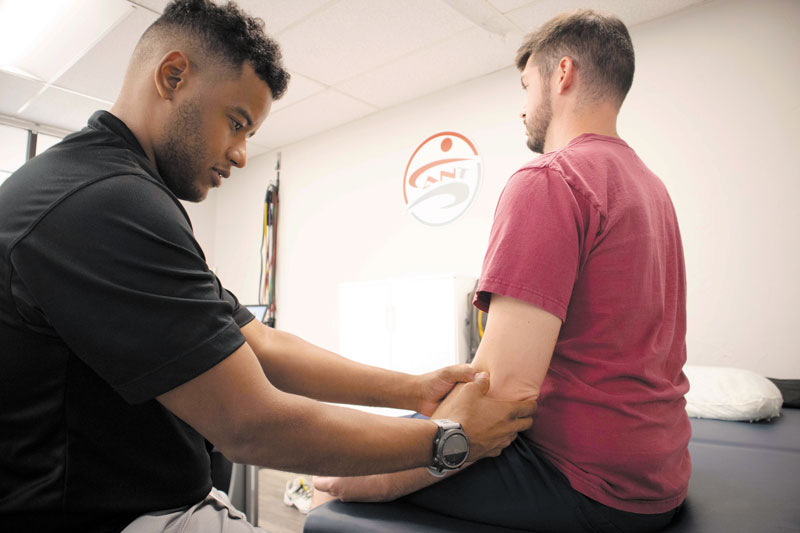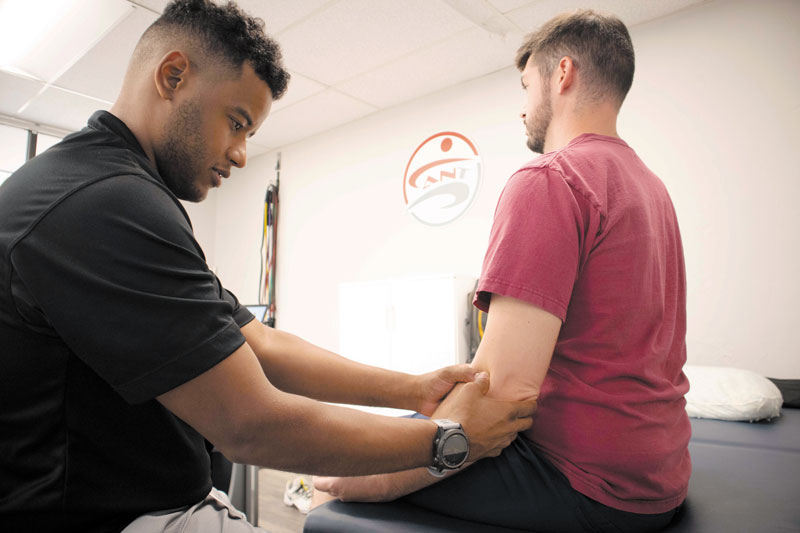 Personal experience helps doctor treat pain issues
By Bella Ross
Dr. Matthew Perry from Auto-Ness Physical Therapy knows all about the deflated feeling that comes with getting bad news from the doctor. But for his patients, he won't let that be the end of the story.
After more than a decade of ice hockey, rugby and weight lifting, Perry started experiencing leg pain in his early twenties. The X-ray wasn't looking good.
"Matthew, I don't know how to tell you this, but you have two herniated disks in your back," his doctor said.
The guidance that followed was almost worse: No more strenuous activity.
The resulting devastation and persevering pain inspired Perry to pursue a career in physical therapy, eventually opening Auto-Ness Physical Therapy in June of 2019.
Today, he said his back feels better than ever, and he's still able to lift weights. He works so his patients can have a similar success story.
"That's my goal right now with my business," Perry said. "It's to teach people and empower people to resolve their pain, because empowerment is something that I didn't have."
This experience taught Perry the importance of seeing beyond the X-ray, and not treating it as the bottom line. This means using X-rays and MRIs as tools in his practice that are seen as just as important as the patients' experiences with their pain.
"What we are essentially doing is showing people that they are not their X-ray, they are not their MRI," he said.
Auto-Ness (born out of the terms autonomy, happiness and wellness) is a one-on-one concierge physical therapy provider in Scripps Ranch.
Whereas many providers split their patients' time between student techs and the physical therapist on site, Perry said he hangs by his patients' side from start to finish.
The Scripps Ranch clinic also emphasizes carrying patients not only to, but past the finish line in their healing journeys.
"We don't want to get people to 85 percent better. We want to get people to 125 percent," Perry said.
For those who are experiencing pain, especially as the result of a recent incident, Perry emphasized the importance of seeking care fast. This means reaching out to emergency care if needed, or setting up a free consultation at his office within the first weeks after pain strikes.
Auto-Ness Physical Therapy is located at 10035 Carroll Canyon Road. Perry can be reached at (858) 324-5537. Visit antherapies.com.