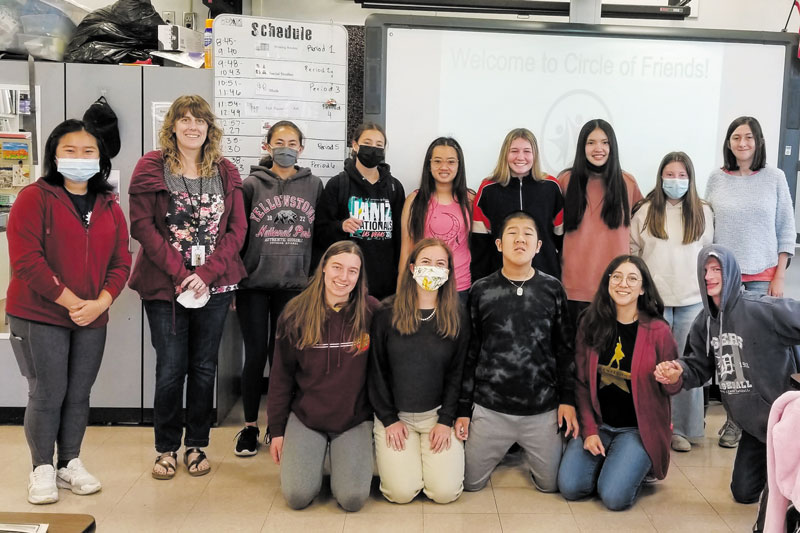 Scout rejuvenates club, earns award
By Kaila Mellos
The Scripps Ranch High School (SRHS) club Circle of Friends received a refresh with the help of a Girl Scout student looking for a change.
Lorena Ford, a SRHS senior, completed her Girl Scout Gold Award by helping to reconnect students after COVID made it harder to get together. She did this by bringing Circle of Friends back to what it once was.
"Over COVID, The Circle of Friends started to die down, and there was much less participation," Ford said. "I wanted to bring that back because my freshman and sophomore year, it was a great place for inclusivity and making sure that students who receive special education got to interact with everybody else at school; and everybody else at school got to interact with students who receive special education. When everything switched to Zoom, it got a lot harder for people to participate."
For a Gold Award project, a Girl Scout must find a local issue in their community and research how to make a change. Ford gathered information from the special education teachers, including Julia McKane and Carla Maldonado. She started the project in her junior year, with the club having three participants. Over Zoom and, eventually back in person, she was able to connect with people through activities and club fairs to get the club to 20 participants.
"Reaching out to people over Zoom was very difficult," Ford said. "But once we got to be back in person and we got to participate in club fairs, and we got to reach out and just invite people, it got a lot better and participation went up."
Ford, part of Troop 6033, has also completed her Girl Scout Bronze and Silver Award before completing this achievement. For her Bronze Award, she taught her sister troop how to sew pillowcases and also paint plaster hearts through Hearts of Hope, to deliver to cancer patients.
Her Silver Award followed in which she raised nearly $2,000 for research of an extremely rare genetic disorder called Charcot-Marie-Tooth 4J (CMT4J).
Ford plans to attend the Honors College at San Diego State University in Fall to study political science and minor in Spanish.