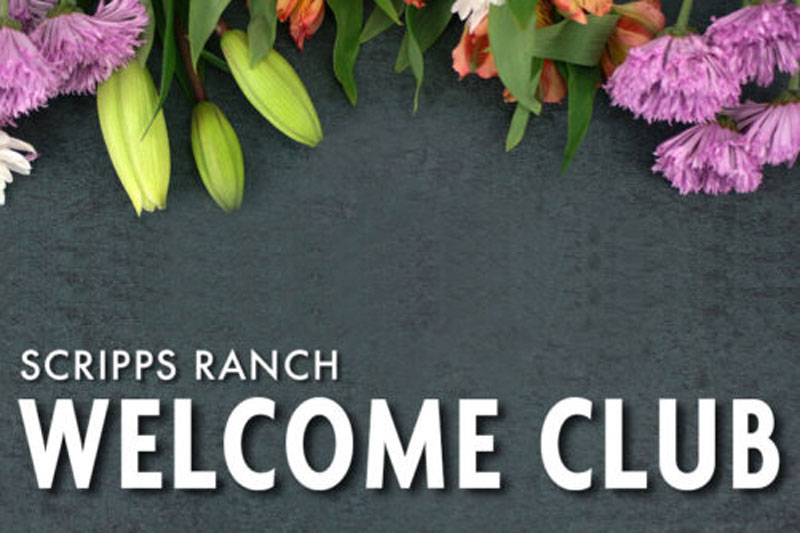 Scripps Ranch Welcome Club enjoys summer treats
By Denise Stewart
Along with the usual walks along the local trails, book club meets, Bunco games and craft making sessions, the Scripps Ranch Welcome Club members enjoyed a highlight this month with its annual Salad Supper.
Members have been gathering for this July club tradition for decades. Each member brought a dish to share and, together, assembled a lavish summer banquet in the garden area of the Scripps Ranch Community Center. While the gourmet offerings were amazing, the gift baskets full of feminine treasures that were raffled off brought excitement to the crowd. JoAnn Farmen coordinated the well-attended event.
The Scripps Ranch Symphony in the Park concert series has been a local festivity for many years. Welcome Club members support the event both financially and with their regular attendance at the performances. This month Rebecca Jade and the Soultones entertained a group of Welcome Clubbers along with hundreds of others at Hoyt Park.
Later in the month, Lynnell Hallock hosted a Coffee Klatch in her lovely garden. Members got to enjoy relaxed visits in the fresh air. It was a perfect flower bedecked summer setting for partaking of delicious morning pastries along with their friends and a cuppa.
Welcome Club has been a vital part of the Scripps Ranch community social scene since the mid-eighties. While some of the 140 or so members have been a part of the group since then, new members are welcomed regularly. New members with new ideas are what keeps the club lively and thriving, the ladies agree.
If you would like to learn more about the Scripps Ranch Welcome Club, check the website: scrippsranchwelcomeclub.com.