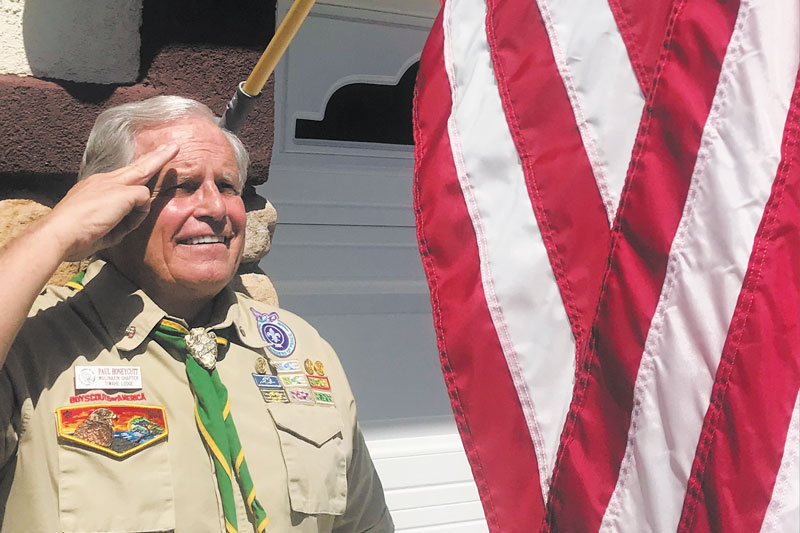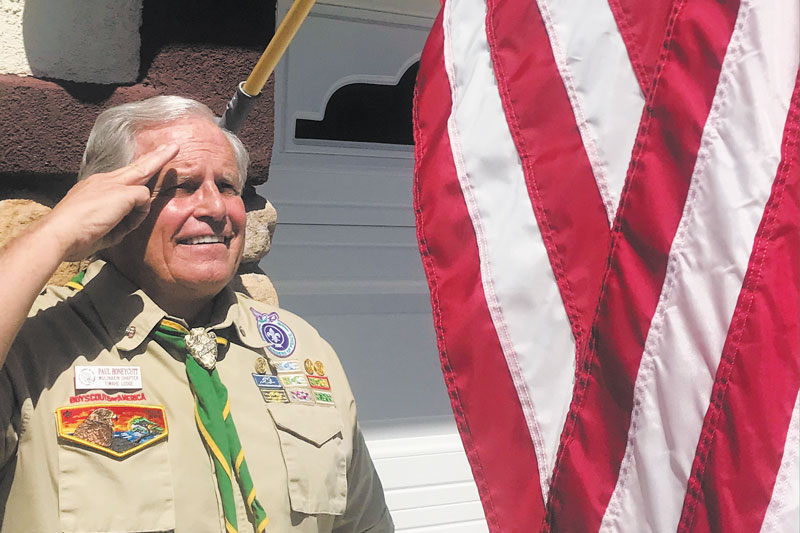 Honeycutt earns prestigious awards
By John Gregory
Paul Honeycutt, a Scoutmaster in Scripps Ranch since 2006, recently received two huge honors for his many years of accomplishments as a Boy Scout leader.
Honeycutt was presented the Eagle Scout Alumni Association Scoutmaster of the Year Award and also received the National Eagle Scout Association Outstanding Eagle Scout Award.
The Scoutmaster of the Year Award is awarded to only one adult leader each year in the San Diego region. Honeycutt mentored 70 Scouts to earn their Eagle Scout award.
The National Eagle Scout Association Outstanding Eagle Scout Award is presented to a leader with a longtime period of distinguished service to Scouting, community and youth.
Honeycutt is Scoutmaster for Scripps Ranch Troop 616, with members ranging from 11 to 17 years of age. One of the main reasons he was nominated for Scoutmaster of the Year was because of his ability to overcome the challenges of maintaining activities for his troop during the COVID-19 crisis.
"It was pretty devastating to Scouting to be locked down," he said, adding that the challenge was figuring out how to continue activities when the troop couldn't meet in person. "As each week came along, I just tried to think of things that would make scouting fun."
Using his motto, "have fun and be safe," Honeycutt worked with his troop to plan virtual meetings.
"I just jumped in, got a professional level Zoom account, set it up for our troop and we started having our weekly meetings – which wasn't perfect, but was the best we could do," he said.
Troop 616 virtual meetings have begun with instruction on such topics as camping, hiking or first aid, and end with a game based on that week's theme.
He set up activities for his Scouts that they would complete on their own. One month was a geocache contest. One month included a fishing derby in which scouts went to their favorite fishing hole. There was a hiking challenge in which scouts were to hike with family members and log their miles. Another activity involved camping.
"So, that was a huge challenge to overcome, to try to keep outdoors somehow in the program," Honeycutt said. "We gave the scouts credit for camping nights where they set up their tent in the backyard. They had to cook for their family."
A former Navy fighter pilot and now a financial advisor, Honeycutt has received numerous civic and Scouting honors. Here are a few of his other accomplishments and awards: Council Contingent Jamboree Scoutmaster 2009-2010; World Scout Jamboree Scoutmaster 2018-2019; Wood Badge for the 21st Century 2008; Scout Leader's Training Award 2009; Scoutmaster's Key 2010; Order of the Arrow Vigil Honor 2013; James E. West Fellowship Award 2016; National Eagle Scout Association Legacy Fellow 2017; Silver Beaver Award 2017; President's Volunteer Service Award for Lifetime Achievement 2016 for over 4,000 volunteer service hours; SRCA Volunteer of the Year 2013, 2014; SRCA Distinguished Volunteer 2016.