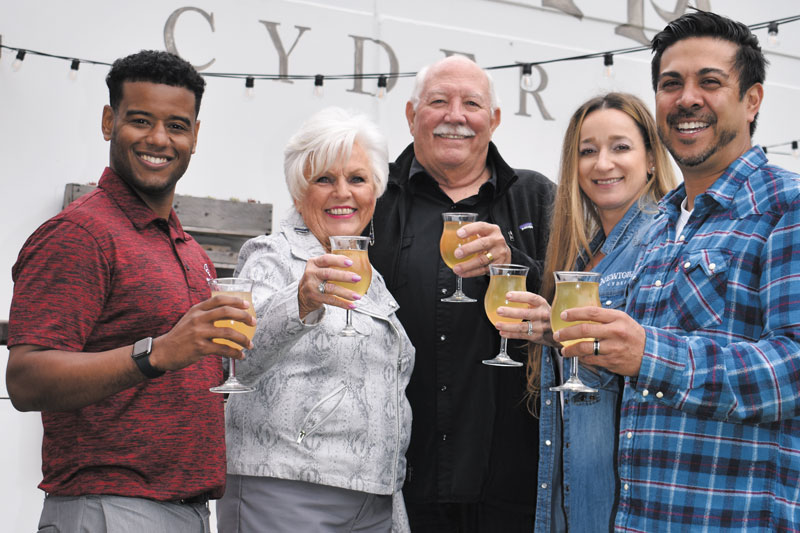 New Farmer's Market is poised to open May 20
By John Gregory
All systems are "go" as preparations continue for the planned May 20 launch of the New Scripps Ranch Farmer's Market. The New Farmer's Market is set to be held each Thursday night from 3 to 7 p.m. in the parking lot at Newtopia Cyder, 10045 Carroll Canyon Road.
The opening of the New Farmer's Market signals the return of a weekly Scripps Ranch tradition that has been missing since the former market closed in 2018 when its site was designated for construction. Now, Beverly and Mike Cassity will return to manage the New Farmer's Market. Tim Mapes will be assistant manager.
"It's going to be a meeting place for family and friends," Beverly said. "Come after work. Join your family, have dinner together. Do your shopping. Bring the kids."
The New Farmer's Market will host more than 60 vendors each Thursday, with the main focus on Farmers and Food, she added.
The market will have three times as many farmers as before. It will feature a selection of the largest organic fruit vendors in the county.
There will be 26 food vendors, 10 of them serving hot food. Food vendors will include yakitori Japanese street food, New Zealand meat pies, toasted cheese sandwiches and crepes. Five bakery vendors are scheduled.
Live music will be at the market each week, and bistro tables and chairs will be available for dining. Customers can also take their food into Newtopia Cyder and order a drink.
There will be arts and crafts booths, two fine artists and a wood turner. A clothes designer will offer her line for the 20-something set.
Parking will be available in the Cabrillo Credit Union lot to the east of Newtopia Cyder and there is an ATM right in front of the credit union. More parking will be available on the streets to the west of Newtopia.
Masks will be required until further restrictions are lifted.
Newtopia Cyder owners Rick Moreno and Jennifer Hays Moreno provided the catalyst and are sponsoring the project along with Matthew Perry, owner of Auto-Ness Physical Therapy; and Cabrillo Credit Union is also helping. The American Foundation for Suicide Prevention is the nonprofit sponsor.
"We wanted to get the people together. We wanted to celebrate the community within Scripps Ranch," Rick Moreno said. "We wanted to do that safely, so we wanted to create an outdoor event where we could partner with local businesses and host an event where we could provide value to the community by bringing farmers and artisanal craft makers that wouldn't necessarily be accessible out here in suburbia."
Perry agreed.
"We decided that, especially in the midst of a pandemic, it is so important for us to try to figure out some semblance of community and getting that neighborly feeling again because we have all been so distanced for so long. So, we decided to do something like this in order to promote that community," Perry said.
New local businesses
Owners of Newtopia Cyder plan to open three new businesses in their same business campus, according to Rick Moreno.
"The next project we have coming up is a coffee shop called Dark Horse, a vegan ice cream parlor called Mutual Friend and then a vegan doughnut shop called Skinny Donut," he said.
"We're trying to get open as soon as May 20. … Dark Horse will probably open first, and then the ice cream parlor and doughnut shop will follow suit," he added.
The businesses will be within the Farmer's Market area and, if all goes well, Dark Horse will be open when the Farmer's Market begins.
"We wanted to bring culture to Scripps Ranch and coffee provides that culture. It brings people together to talk, tell stories and share ideas," Rick said. "Newtopia Cyder has been here for the community and we look forward to continue to be here for generations on."