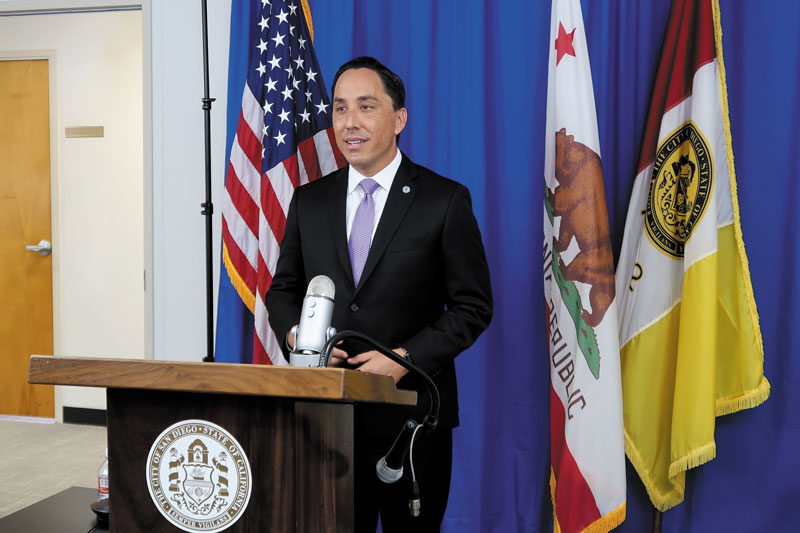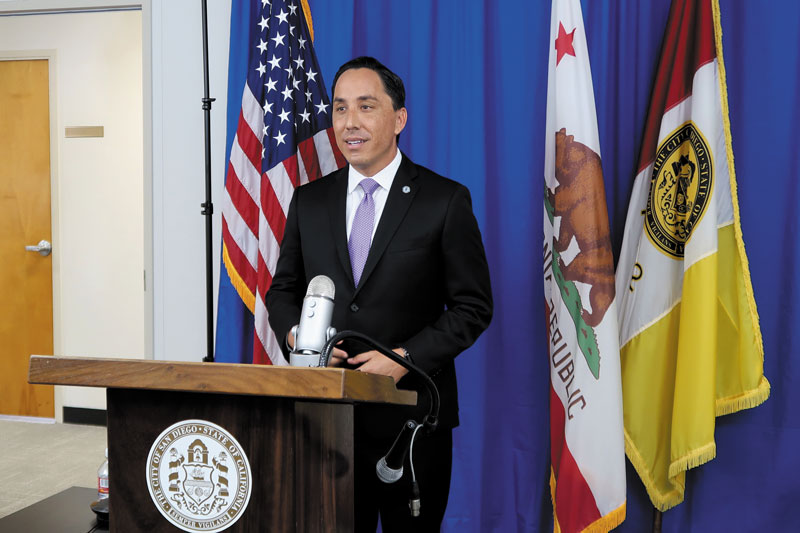 New mayor is tuned-in to Scripps Ranch
By Hoyt Smith
San Diego Mayor Todd Gloria spoke with Scripps Ranch News earlier this month, outlining priorities for his new term, addressing major city projects that will impact local residents and discussing his relationship with Scripps Ranch's new District 5 City Council member.
COVID-19 and the resulting economic recession are the two biggest challenges the City of San Diego
currently faces, Gloria explained.
"COVID is the main driver right now – saving lives and reopening businesses. There is no higher priority
than defeating the virus and returning the economy to normal," he said.
Upon being sworn in, Gloria advocated for the City of San Diego to receive vaccine doses in order to help mitigate the pandemic.
"We got the green light from Sacramento about a week ago," he said.
While the County of San Diego had already received large shipments of the vaccines, the City started with a modest amount – about 1,200 doses.
"My ambition is to prove that we are responsible, efficient and effective in getting the vaccine out into the community," Gloria said. "If we can demonstrate that to the State, we will hopefully get more doses."
Initially, the Mayor aims to have the City administer about 300 vaccines per day. His staff is currently identifying more available distribution locations.
"We want to complement County efforts and fill certain holes," he said.
Gloria named senior citizens, law enforcement officers and teachers among those most urgently in need of vaccines.
"I understand that many people want schools to open soon – and safely of course," he said.
It's too early to say whether there might be a city-operated vaccine administration site in or near Scripps Ranch.
Other issues on the Mayor's to do list include homelessness and infrastructure. He realizes that both priorities involve major area projects.
"I have a great deal of familiarity with Scripps Ranch, not just from two terms on council, but also as a native San Diegan," Gloria said. "My family used to drive through Scripps Ranch to visit my grandparents in Ramona."
Mayor Gloria said he's "up to speed" on the development of permanent supportive housing units at a city-owned Park and Ride lot in northwest Scripps Ranch, adjacent to Yanni's Bar & Grill, "thanks to new Fifth District Councilmember Marni von Wilpert." The units will help to reduce homelessness, but construction may seriously impact parking for the popular restaurant just off Scripps Poway Parkway.
"I've had two meetings on that topic," he said. "I have asked city and staff to work with the developer and adjacent businesses to see if there's a solution."
From his experiences as a city council member, Gloria said, he was previously involved in two projects – a dedicated transit lane in Mid-City, and dedicated bike lanes along University Boulevard in Hillcrest – where there were initial projections for losses of parking places.
"In both cases, instead of losing parking, we netted parking," he said. "We can find similar creative solutions for businesses like Yanni's. Marni has a laser focus on that. With her role as chair of the transportation committee, and my role as vice chair of SANDAG (San Diego Association of Governments), there will be plenty of opportunities to address that and other transportation issues affecting Scripps Ranch."
According to Mayor Gloria, there will be a ceremonial kickoff this year for the Pure Water San Diego project near Miramar Lake – the biggest infrastructure project in the City's history. The multi-year effort will ultimately provide one-third of San Diego's water supply when it is completed in 2035.
"It's a massive undertaking, and a project of this size and scope will be disruptive," he said, asking Scripps Ranch residents to be patient regarding the anticipated traffic congestion on Scripps Lake Drive once construction is in full swing.
"Those problems will be short term," he added. "The long-term benefit is a greater degree of water independence. We're an arid environment in a time of climate change, and this project is extremely important to the city's future."
The new San Diego mayor will work with five new city council members, including Councilmember von Wilpert, whose Fifth District includes Scripps Ranch. Mayor Gloria's relationship with her is relatively new.
"We got to know each other on the campaign trail and I'm just incredibly impressed," Gloria said. "She's very talented, very diligent, and obviously a hard worker. As someone who's done that job, I'll tell you. that's what you need to succeed."