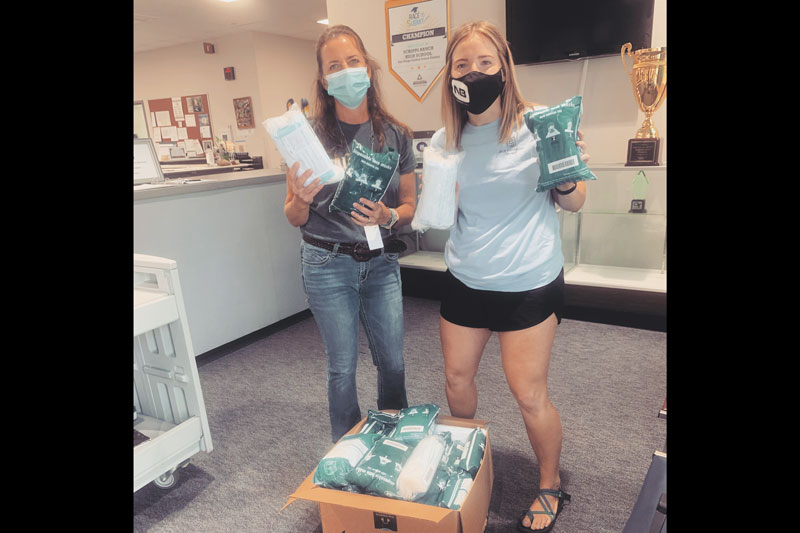 NEWS UPDATES
Fire Safe Council holds golf tourney
The Scripps Ranch Fire Safe Council invites all golfers and residents to a day of fun by entering the organization's 14th annual Play to Protect Charity Golf Tournament. The event will be held Saturday, Oct. 23 at Eagle Crest Golf Club, 2492 Old Ranch Road in Escondido. A shotgun start begins at 8 a.m. The entry fee is $125, and includes golf, cart and lunch. Form a team and get in on the fun. There will be lots of raffle prizes and auction items. Funds go toward supporting the Scripps Ranch Fire Safe Council which educates local residents about fire safety and helps prepare for the looming possibility of wildfires. To enter, call Karen at (858) 201-3711 or sign up at srfiresafe.org.
Rotary Club gears up for E-waste recycling
The Rotary Club of Poway-Scripps reminds residents to mark Oct. 23, Scripps Ranch Clean-Up Day, on their calendars as the day to get rid of junk. Members from the Rotary Club will assist with the event as the club partners with Computers2Kids (C2K) to accept electronics for recycling. C2K accepts all working and nonworking electronics. Separate E-waste from items earmarked for the dumpster. This fall's event takes place at the Scripps Ranch Community Center, 11885 Cypress Canyon Road, 8 a.m.-noon. Watch for signs directing participants to the location of the electronic recycling area.
Newbreak donates masks to SRHS
Newbreak Church learned that Scripps Ranch High School (SRHS) was running low on masks at its campus this school year, so its members donated 2,400 masks in early-September. Besides donating masks to the school, Newsbreak recently presented all SRHS teachers and staff with Welcome Back Starbucks cards; and brought RomBomb burgers to teachers and staff as a treat for lunch. Just before the coronavirus shutdown in 2020, Newbreak Church donated a van-full of color paper to SRHS. Newbreak Church is literally a good neighbor to the school, being located just across the street from SRHS at 10635 Scripps Ranch Blvd.
SR Theatre is hiring
Scripps Ranch Theatre (SRT) seeks new employees.
Position 1: Graphic Designer/Publications Manager (part-time position. Salary commensurate with experience). Responsible for the organization, production and distribution of all SRT printed materials.
Position 2: Patron Services Manager position encompasses house and box office management. Part-time position averaging 15 hours/week; $15,000 annual salary.
Submit resumes to jobs@scrippsranchtheatre.org. Enter either Graphic Designer or Patron Services in the subject line.