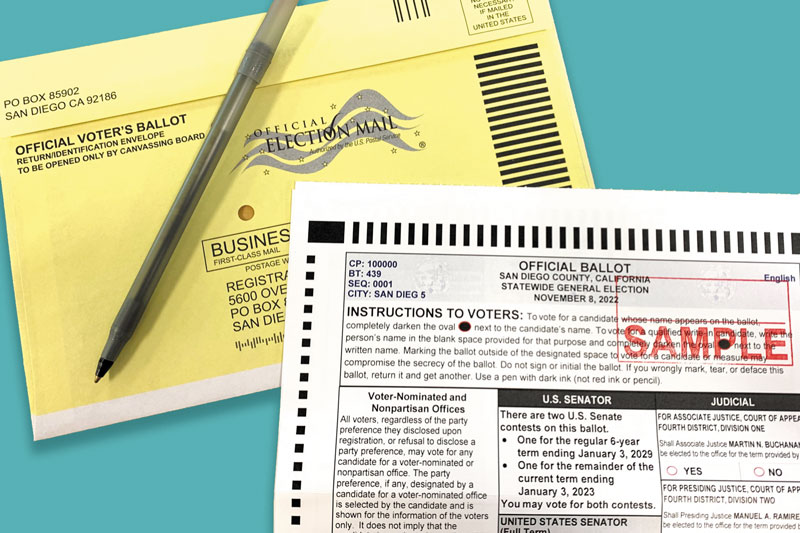 NEWS UPDATES: October 2022
Ballots sent to registered voters
More than 1.9 million ballots were sent to San Diego County registered voters for the Nov. 8 Statewide General Election. Voters will also find their "I Voted" sticker inside the official ballot packet.
Voters can also take advantage of early voting at the Registrar of Voters office in Kearny Mesa. Hours run from 8 a.m. to 5 p.m. Monday through Friday. However, the Registrar encourages voters to take advantage of the convenience of voting by mail.
You can vote from the comfort of your home and return your voted ballot through the mail – no postage needed – or to any of the Registrar's official ballot drop box locations around the county through Election Day. Remember to sign and date the return ballot envelope. Your signature is required for your vote to count.
Learn more about voting in the November General Election at sdvote.com, call (858) 565-5800 or toll free at (800) 696-0136.
---
STEP helps build playhouses for kids
Support the Enlisted Project (STEP) participated in a playhouse building day with Sentry Residential for Sentry Serves Day on Oct. 7. This year, a team of 30 Sentry staff members were set to build 10 playhouses at Support the Enlisted Project, 9915 Businesspark Drive in Scripps Ranch.
The playhouses were to be distributed later that day. These ready to use playhouses come equipped with an American flag and welcome home sign. The playhouses were given to 10 deserving pre-selected enlisted military families.
Sentry Residential's mission is to improve the lives of military families for generations through home ownership.
Support the Enlisted Project's mission is to assist junior active-duty enlisted members, recently discharged Veterans and their families facing financial crisis to achieve long term financial self-sufficiency through counseling, education and emergency grants.
---
Local Rotary Club selling U.S. flags
Patriotism is a year-round celebration, and the Rotary Club of Poway-Scripps is selling American flags.
The flags are made in the U.S.A. and priced at $35. You may purchase by contacting Dan at (858) 240-6853.
Pay with Venmo, credit card, cash or write a check to Rotary Club of Poway-Scripps.
Once ordered, your flag can be delivered to you by a Rotarian or you may pick it up at the distribution center.
Proceeds are used to purchase flags and support community service projects.
---
Soroptimist grant applications open
The Soroptimist Live Your Dream Awards program for women who serve as the primary wage earners for their families provides grants to offset costs associated with their efforts to attain higher education or additional skills and training. Recipients can use the award for tuition, books, childcare, carfare or any other education-related expense.
The Live Your Dream Award starts at the club level where Soroptimist International of Poway will provide up to 10 awards starting at $1,000. Club-level recipients then become eligible for region level awards granted in each of Soroptimist's 29 regions. Applications are available at bit.ly/LYDA-apply or by contacting Lauren Chin or Linda England at sipoway@soroptimist.net. Deadline is Nov. 15, 2022.
---
Mesa Town Center offers Halloween event
The public is invited to the free Halloween Trick or Treat event at Mesa Town Center on Saturday, Oct. 22 from noon to 3 p.m. The open-air shopping center is located at 8955 Mira Mesa Blvd.
Children can decorate a bucket at the Craft Activity area to use for trick or treating at participating merchant locations. During the three-hour event, participants may watch magic shows and get a custom created balloon ghost, cat or other shape to keep.
Bring a smartphone or camera to take pictures with FrankenStilt, a very tall, costumed character. No reservations needed. Everyone in the family will enjoy the Halloween Trick or Treat event at Mesa Town Center.