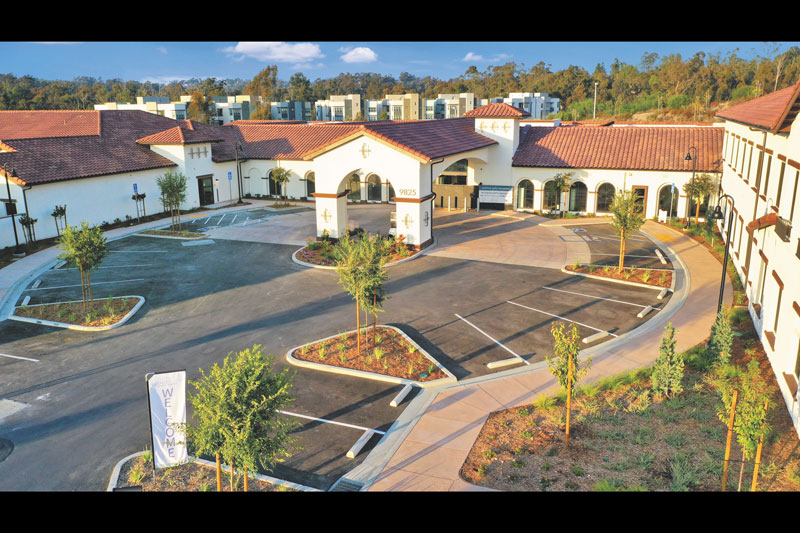 Ridgeview health Center: A place to heal and call home
By Jill Alexander
Dorothy from "The Wizard of Oz" may have said it best when she clicked her heels exclaiming, "There's no place like home!" Home is home, no matter what.
However, sometimes one might need assistance when maintaining their current home becomes difficult, especially if they are a senior in need of rehabilitation or therapy.
Enter Ridgeview Health Center, 9825 Glen Center Drive, located near the entrance to The Glen at Scripps Ranch independent living community. Ridgeview Health Center is open to the public and offers living options in assisted living, memory care and skilled nursing.
"We offer the highest level of care, compassion and all the comforts of home. Our team is committed to the health and wellness of our seniors, and that's what differentiates us from other communities – our staff," Director Robert Daynes said.
Services at Ridgeview Health Center are appropriate for individuals whose needs extend beyond assisted living – such as a person recovering from surgery, injury, heart attack, stroke, or other illnesses. Additionally, Ridgeview Health Center's team of professionals offers physical, occupational and speech therapy seven days a week.
Skilled nursing care is the next level of care after hospitalization when doctors refer a patient to a rehabilitation center.
"We are fully equipped to provide medical and therapy services that help those in our care recover and safely return home at their highest level of independence," said social services director Melanie Spalding.
Daynes recalled watching Ridgeview's construction during the COVID-19 pandemic "from the dirt up" to what it has become today – "a very special place."
"I think what makes us special and why a family would choose this community is the people who work here," Daynes said. "Our leadership team and directors are second to none, and they would give anything to provide our residents with the best care they can. The team members who work here love being here, and we have developed a wonderful environment filled with all kinds of activities that keep our residents active and engaged on a daily basis."
Daynes and Spalding said the typical questions asked about skilled nursing are: "Does insurance cover care?" and "How long will I be here?"
Yes, insurance does cover skilled nursing services at Ridgeview, and the duration of one's stay depends on what kind of therapy is required. The team can go into more depth on these topics and questions during a walk-in tour of the community.
"Ridgeview promotes an environment of patient-centered care, with the goal of getting you back to your day-to-day life as soon as possible," Spalding said. "We want to reach out to the local community and let locals know we are here for them and the Scripps Ranch community."
Beyond the therapy and medical assistance, Ridg-view focuses on caring for the whole person with life-enrichment activities such as art classes, book clubs, outings, happy hours, wellness and fitness classes, support groups and themed events. It also offers a restaurant-style dining room, complete with a chef and servers to enhance the dining experience.
"For some of us, it's truly a place to call home," said resident Margaret Martin. "Everyone at Ridgeview Health Center has been helpful and has played a part in my recovery. They have all provided a great deal of attention and comfort which I am so grateful for."
"So far, I have received outstanding care here at Ridgeview Health Center. Everyone that has cared for me has been kind and compassionate," resident Patricia Lubarsky said.
Visit ridgeviewhealthcenter.com or call (858) 293-3900.