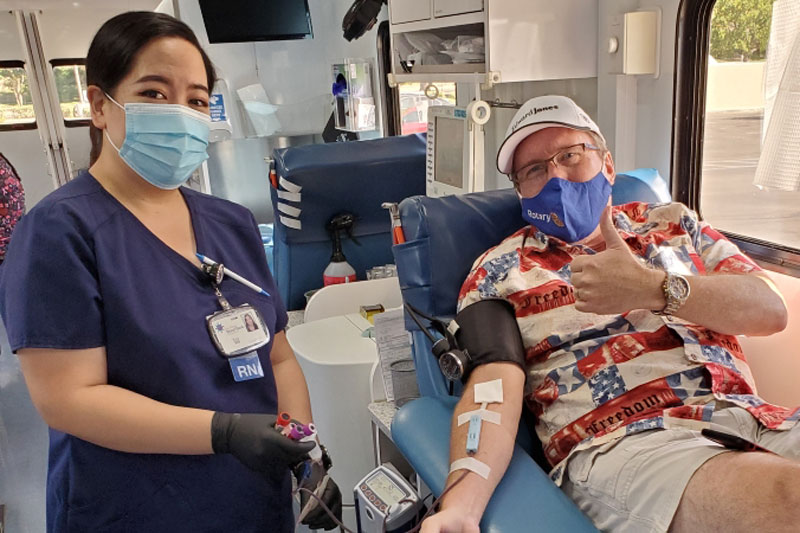 Rotary Club sets blood drive
The new year is off and running with good deeds to be done as the Rotary Club of Poway-Scripps and the San Diego Blood Bank team up to hold their second blood drive.
The event will take place Feb. 24 from 9 a.m. to 2:30 p.m. in the "new Vons" parking lot at 10675 Scripps Poway Parkway. The public is invited to participate by scheduling an appointment at sandiegobloodbank.org/donate or by calling (619) 400-8251. Appointments are mandatory and donors will need to bring a photo ID.
Efforts from this blood drive aid the San Diego Blood Bank which must collect more than 350 units of blood each day to meet the needs of patients who are battling life-threatening blood disorders and cancers, suffering from trauma like burns or accidents, and even complications from childbirth. One pint of blood can save up to three lives.
In 2020 the Rotary Club donated funds to Pomerado Hospital to help the emergency personnel, donated to Interfaith Community Services, SD Fire Rescue to assist first responders and donated $1,000 to the Shelter Box disaster relief charity to assist families in emergency areas. A shelter box contains a family size tent specially designed to withstand the elements and provide people with temporary shelter until they can start the process of rebuilding a home lost due to an emergency situation. The signature green boxes feature a Rotary Club logo and are adapted to fit the emergency before being transported on scant notice.
The Rotary Club of Poway Scripps is selling American made U.S. flags to help raise money for these projects. To order a flag call Dan at (858) 240-6853.
Rotary Zoom meetings are held on Wednesdays at noon. To join the meeting, call Dave at (619) 602-3078 or email contact@powayscrippsrotaryorg.